Solar is a great alternative.
The 2 watt solar panel to be a handy little tool.
This 2 watt solar panel is to make life easier. They call it the Coleman 2W Solar Battery Maintainer because this is exactly what it does. It maintains your 12-volt battery charge by utilizing the sun's energy.
 The thin film (amorphous) panel charges the batteries in varying weather conditions. It can range from -40 degrees up to 80 degrees Celsius.
It comes with a plug for your 12v accessory hole. They also supply a set of battery clamps to connect it to your battery if required.
Suction cups are also included to mount it on your windshield.
There is a small blue LED on the panel to let you know if it is charging. A 2, 4-meter wire is also included. 
What a smart piece of equipment. It keeps on trickle charging your 12-volt batteries.
It works and it never fails you. What a pleasure to be aware of such a life saver.
The 2 watt solar panel Specs
Electrical

Maximum Power:

 Operating Voltage:

 Operating Current :





2 Watt.

12V.

133mA.

Mechanical

Weight:

Dimensions:

Type:

Warranty

A 5 year limited warranty is included.

Applications

Maintain batteries of;

Cars.

SUVs.

Boats.

Tractors and more.

It only maintains. It does not charge a discharged battery. To charge a battery you need a proper battery charger.




1.06 lbs.

13.9 x 4.9 x 0.6 inches.

Thin Film.
How to use the 2 watt solar panel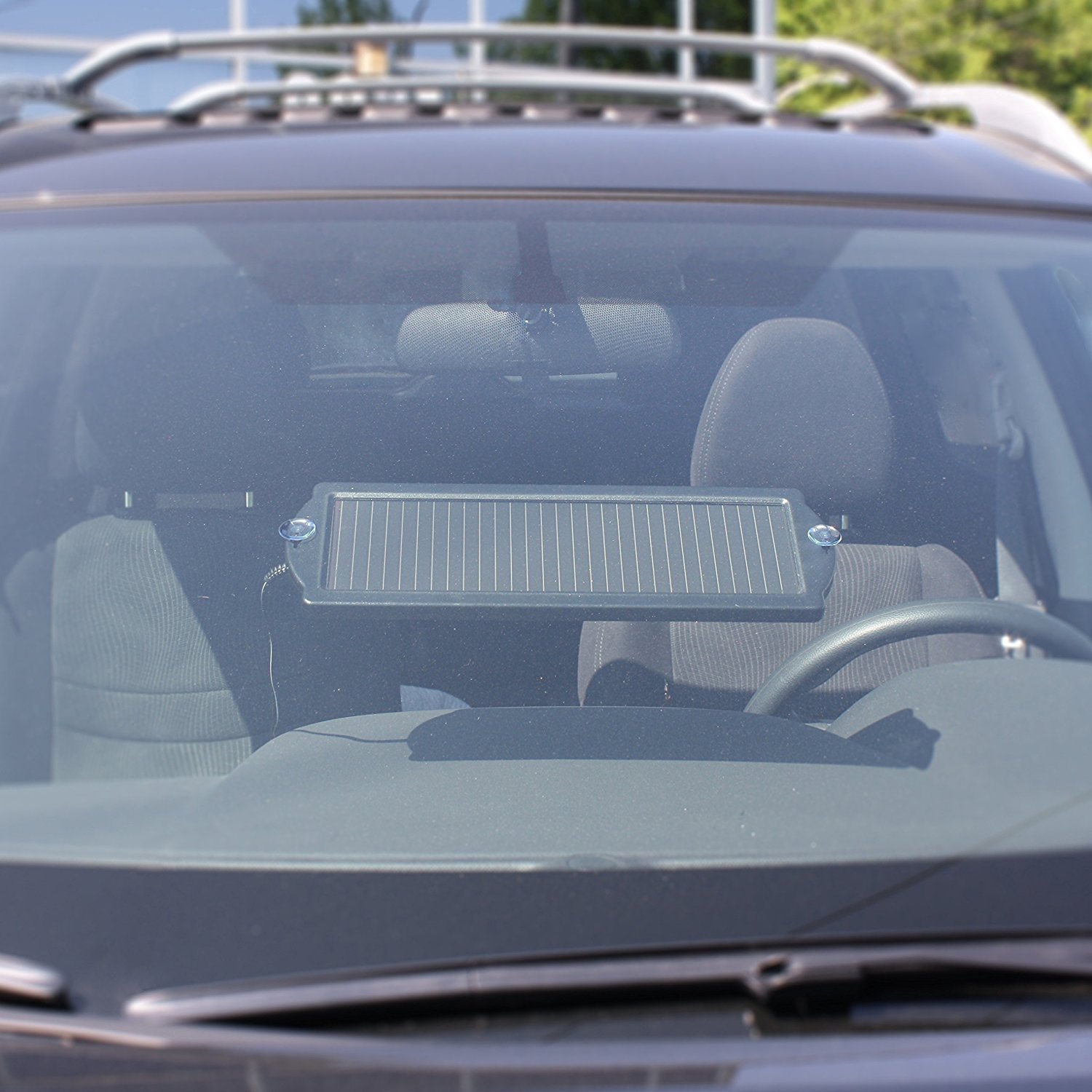 You can connect the solar module to your 12-volt socket in your vehicle. Or you can use the battery clamps to connect to your 12-volt battery.
You can use the suction cups to stick the panel to the window. It works well, but some people prefer not to use it and put the panel on the dashboard which also works well.
It is not necessary to use a charge controller because the output is way below 15 watts.
Where and when to use
The 2 watt solar battery maintainer is ideal to maintain all 12-volt batteries.
Connect it to act as a trickle charger. It will keep your battery charged and healthy and ready to use for the whole duration of winter. You will not experience any problems.
Inside Garage Window.
It sometimes happens that you store your vehicle for a long time. You can expose your solar battery maintainer to a good source of sunlight. Mount it to a window and you will ensure that your battery will remain charged for the year.
The frustration killer will ensure a healthy battery. Even while you keep the vehicle indoors.
You can use the 2-watt solar panel for many applications. It maintains the batteries of snowmobiles, cars, and motorcycles. Also boats, tractors fence energizers and many more.
Advantages to be experienced when using the 2 watt solar module
Disadvantages
Important facts to mention
Maintenance
In a conclusion
This 2-watt solar panel is great for keeping your batteries up and ready for operation.
Short and sweet: Good product @ a good price.