Solar is a great alternative.
The 80W solar panel maintains batteries and can do many other functions



The 80W solar panel comes with a built-in controller and is ready to charge a battery or to use as a solar generator.
Acopower manufactures the Monocrystalline portable solar module. It exists of two 40 watt solar panels. This is a suitcase kit with an own handle to carry, is portable, a breeze to setup and easy to transport. 
The 80W solar panel kit contains 2 X 40 Watt solar modules and removable MC4 connector cables.
It also comes with a user manual, alligator clamps, and cables, as well as a 10 Amperecharge controller.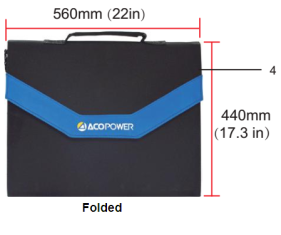 The portable solar module weighs 6.1 lbs. 
It is an o.8 inch thick and has a size of 22 X 43.3 inches when open and 22 X 17.3 inches when folded. 
The Charge Controller
This solar panel module comes with a 10A solar charge controller. 
This charge controller protects the batteries against unsafe electrical conditions. It will be safe during surges and overcharge.
You have to use the controller when charging 12V batteries.
The 80W Solar Panel Specs
Electrical

Maximum Power:


Open-Circuit Voltage (Voc):


Optimum Operating Voltage (Vmp):

Optimum Operating Current (Imp):

Short-Circuit Current (Isc):





80W.


21,6V.


17.8V.

4.5A.

4.95A.


Mechanical

Weight:

Dimensions:

When Folded:

Warranty

The solar panel itself comes with an 18-months workmanship warranty. As well as a 

25-year 85% output warranty

Applications

The 80W solar module is multi-functional. Use it for hiking, camping, military use, solar panel system, caravan, RV, and boat.

Also for greenhouse solar panel system, solar pump watering system etc.




6.1lbs.

22 x 43.3 x 0.8 inches.

22 x 17.3 inches.
How to operate
Now it is a matter of unfolding the two panels and faces it towards the sun. It will immediately start producing an output.
It is best to adjust the solar panels to realize max sunlight for as long as possible during the day. That will ensure most power output.
Remember you first connect the battery to the charge controller. Now you connect the load and finally the solar module.
When disconnecting you do it the other way round. First, you disconnect the module, then the load and then the battery. 
Always to connect the positive and negative leads according to the prescribed polarity. 
Remember to read all safety precautions before you put the 80W solar panel into operation. 
Be very careful and aware of sharp objects that can damage the surface of the solar modules. 
Proper battery clip connection will prevent short circuits. 
Advantages associated with the 80W Solar Panel
The solar panel has a conversion efficiency up to 23.5%.
The module is resistant to salt corrosion and humidity.
It withstands high winds (2400Pa) and snow loads (5400Pa).
The module comes with a lightweight anodized aluminum frame.
The manufacturer uses reinforced safety and anti-reflection coated glass 3.2mm thick.
The panel is for extended outdoor use and can last for decades.
The panels have a built-in stand making it easy to set up facing the sun. It is easy to adjust for the largest sunlight during the day.
Disadvantages
Positive facts to mention
This 80W module is light; it is easy to carry and to set it up. It delivers a high output and the built-in charge controller makes life easy.
The crocodile clips and MC4 connectors come in handy. The  USB ports add up to making it convenient and easy to use the solar module.
Maintenance
Clean the surface with a soft brush when it becomes dirty. Then use a damp cloth to remove remaining dirt and dust.
In a conclusion
The 80W solar panel is affordable. The price is very reasonable and you buy a system with high efficiency.
It delivers a more than satisfactory output.