Solar is a great alternative.
Folding solar panels are for outdoor use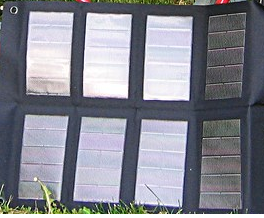 Folding Solar Panels.
Folding solar panels are handy to use when you are a person that want to generate power when moving around.

The folding panels are not meant for permanent installations.

These panels are very flexible because they are easy to carry. It is easy to transport, fold and unfold these modules. They also take up little space when folded and packed away.

Most of these panels come with carrying handles and often a nice bag for storage and carrying. Generally, you can expect them to have legs for easy setup. Some come with hooks to hang.

In short, manufacturers try to make these folding panels as convenient as possible. This is for easy setup and ease of handling.

The foldable solar modules are smaller than permanent solar panels. They do come in different types though.

These are monocrystalline, polycrystalline, and thin-film solar panels.

The folding modules come with varying power outputs. You can charge different devices, and in many instances at the same time.

Applications
  USB devices.
Mobile phones.
Tablets and digital cameras.
 Electronic devices.
Battery packs.
Travel.
 RV van.
Cycling.
Hiking.
Camping.
As well as all other outdoor activities.
How to use the folding solar panels
Locate a sunlit area. Be sure it is a spot without any obstacles that could block the sun.


Now it is a matter of unfolding the panels and face it towards the sun. It will immediately start producing an output.


It is best to adjust the solar panels to realize max sunlight for as long as possible during the day. That will ensure the most power output.


Always connect the positive and negative leads according to the prescribed polarity.


Remember to read all the safety precautions. Then you put the foldable solar panel into operation.


Proper connection of wiring will prevent short circuits.


Remember, anything that covers the surface of the module reduces the output power.
Advantages
Most folding solar modules are 

IP

 rated.
Disadvantages associated with folding solar panels



The panels are not waterproof they are only water-resistant. It is best not to leave them wet for long periods.
To avoid any damage, it is good practice to store the folding panels in a cool dry environment.

Folding solar panels are less efficient than ground or roof-mounted systems. You lose a bit of solar cell space due to the hinges needed for folding purposes.

Warranty
The rigid type of folding solar panels come with a warranty of up to 25 years.
Warranties on the folding ones that are not rigid can be shorter than 25 years. Warranty periods can vary, but are seldom less than 12 years.

In a conclusion
Folding solar panels are handy, efficient, and very versatile. Determine your mobile requirements and you will find a suitable folding module.
Some folding solar panels