Solar is a great alternative.
Most Portable solar panels are foldable 
Portable and Foldable.
Portable solar panels are small in size. You can see them as foldable. The smaller ones like battery maintainers are not foldable but still easy to carry.
You do not need a charge controller for the smaller portable panels. This is because the output is low at 5 to 10 or 15 watts. A solar battery charge controller is only for panels of 15 watts or greater.

If you have a solar panel that you can use as a mobile electricity supplier, you can call it a portable solar panel.

Portable panels are smaller than those traditional panels for residential or commercial functions.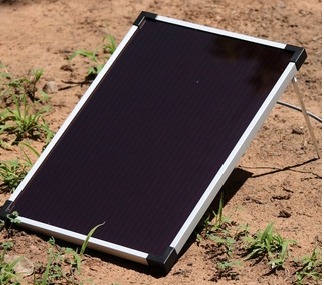 Portable Solar Panel with Kickstand.
Most portable panels come with extra features. These panels can come with a convenient carry case, as well as a kickstand for better adjustment. They can be foldable, easy to store, and quick and easy to setup.

The larger portable solar panels come in suitcase style. They are traditional(rigid) solar panels. They are bulkier but strong and very well protected. The suitcase panels can fold in two. They come with a handle and are easy to fold up and carry.
Applications
With portable solar panels you can generate power on the move.
Use it for:
Camping.
Hiking.
Outdoor activities.
RV.
Boat.
To power basic appliances in a small home.
Charge laptops.
Heat water in remote areas.
Charge the battery of a car.
At campsites.
Phone charger.
What to look for in a portable solar panel
When buying a portable panel, you must make sure that it is safe, versatile, easy to use, and easy to maneuver. It must have the ability to generate a fair amount of energy. The panel should be well built and be water-resistant as well.
To maximize the output of the portable solar panel you must:

Have direct access to unblocked sunlight.

Have a proper angle of inclination w.r.t the sun.

Keep the surface clean and without scratches.
Advantages associated with portable solar panels



Portable panels are a practical solution for outdoor people who are on the move. They are compact and convenient. They are easy to fold up for ease of transport.
Setting up a portable panel is quick and easy.

These panels provide for a large variety of applications.

Most of these panels come with adjustable legs, a carry bag, and a handle for ease of carrying.

These panels are also suitable for home-usage.

It is easy to move and adjust portable panels. It is thus much more flexible than roof-mounted panels. With this flexibility, you can use the sun for longer periods during the day.

The versatility of portable panels is a big advantage.

These panels have a low maintenance cost.

Most portable solar panels are water-resistant.

Disadvantages
Portable panels are useful for minor solar projects. They do not provide enough electricity for a home.
You must set these panels up every time you move. It is not as convenient as switching on and off.

With portable solar panels, you run a significant risk of theft and damage.

Warranty

The rigid type of portable solar panels come with a warranty of up to 25 years.
Warranties on the portable ones that are not rigid are shorter than 25 years. Warranty periods can vary but are seldom less than 12 years.

In a conclusion
Portable solar panels are handy, efficient, and very versatile. Determine your requirements and you will find a suitable portable module.
Some portable solar panels: