120 Watt solar panel: To do many functions
120 Watt Solar Panel.
The 120 watt solar panel from Eco Worthy charges batteries. This is a solar suitcase. Use it for charging your 12-volt batteries and to do many other functions.
Eco Worthy manufactures the 120-watt solar suitcase. Use this plug and play solar module for ease of setting up and use. 
Eco Worthy is easy to deal with. They care about their customers. They put high emphasis on after sale service.
This suitcase comes with a built-in 15 Amp charge controller. It protects your connected batteries. It protects against overload, reverse connection problems as well as overcharge. 

The 120W Foldable Mono Solar Panel Kit comes with; 
Two 60W Monocrystalline Solar Modules.
1 x pre-installed 15A charge controller. 
1 pair pre-installed 10ft solar cables.
1 pair 30A alligator clips. 
An adjustable aluminum stand. 
A handle plus two latches contribute to making it a convenient and easy to use solar briefcase. 
Size;
When folded, it is 34' x 20' x 3 inches. 
When unfolded, it is 34' x 40.5' x 1.4'. 

It indicates how well it will fit in your car, boat or RV when planning to use the  briefcase. 
It has a weight of 29 Lbs.
120 Watt solar panel specifications
Electric

Max Power:


Open-Circ Volts (Voc):


Opt Oper Volts (Vmp):

Optimum Oper Amps (Imp):

Short-Circ Amps (Isc):





120W

21.6V.


18V.

7.32A.

6.66A.


Mechanical

Weight:

Meas:


Warranty

It comes with a  25-year transferable output guarantee..

For 10 years, it guarantees  90% efficiency. From 10 to 25 years it is 80% efficient.

There is also a 2-year material and workmanship warranty for the 120 watt solar panel.

Applications

 The solar suitcase is good to use for;

 Hiking. 

Camping. 

Military use. 

Off-grid solar panel systems. 

Caravanning. 

RV's. 

Boats. 

Greenhouse solar system. 

Solar pump watering systems.




29lbs.

34' x 40.5' x 1.4' inch.
Working of the 120 Watt solar panel
This ECO-WORTHY 120 watt 12volt foldable Monocrystalline Solar Panel generates  electricity cheaply. 
Open  it to the sun. When you direct it perpendicular to the sun you get a peak performance.
Connect the appliance to the load terminal of the connector. 
Connect the male weather pack connector with alligator clips. Connect it to the female weather pack connector from the controller.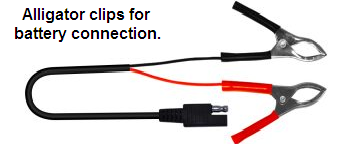 Clamp red and black alligator clips to positive and negative ends of the battery. 
Remember first to connect the battery to the load and then connect to the solar panel to prevent damage due to overload.
The Charge Controller
It provides protection against insertion of fingers.
Automatic  detection of 12 and 24V system.
PWM   charging is available. It uses 3-stage charging algorithm; impulse, bulk, and float.
The controller provides reverse battery pole connection protection as well as lightning protection.
15A PWM Charge Controller

 

Specs
Nominal output: 12V/24V 
Max charge current: 15A 
Max load current: 15A 
Max solar panel: 270Watt/540Watt 
Over discharge protection: 10.8V/21.6V
Reset: 12V/24V 
Float charge: 13.8V/27.6V 
Advantages associated with the 120 watt solar panel
With the heavy duty handle you have a firm grip and carrying the panel is a breeze. Without the handle, it would be very difficult to carry around, and would hardly be a solar briefcase.
Maintenance
The module requires little maintenance.  It is a good idea to use warm water and a soft sponge or cloth to clean your panel at regular intervals. 
You will ensure efficiency at a constant high level.
Disadvantages
Some people want the cords that attach the batteries to be a bit longer.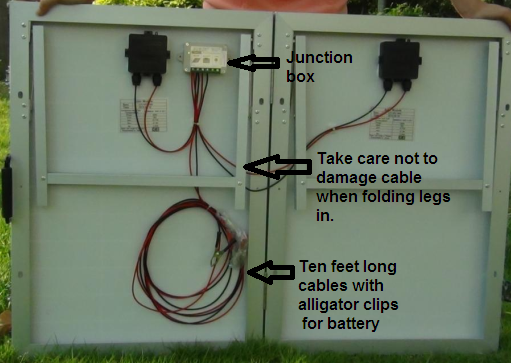 When folding take care not to damage the wires exposed underneath the legs. 
To mention
Great and fast shipping! 
It is a good idea to buy or use an old soft blanket to cover the PV when not in use.
To conclude
This 120 watt solar module is of high quality  and produces the required voltage and current. 
This is a great charger for the money spent.
Click here for a similar module.

 If you purchase a product through a link on this page, I do get a small   percentage  of commission at no extra cost to you.

---