The 2w solar panel: This is to be a smart, handy tool
This 2w solar panel makes life much easier. This Coleman 2 Watt Solar Battery Maintainer keeps your car battery tip top. This is  by utilizing the sun's energy.
 he thin film solar module charges the batteries in many different weather conditions.  Ranging from a low -40 degrees up to 80 degrees Celsius.
It comes with a plug for your 12v accessory hole. They also supply crocodile clips for battery connection.

Suction cups are also included to mount it on your windshield.
There is a small blue LED on the panel to indicate state of charging.  A 2, 4-meter wire is also included. 
The 2w solar panel keeps trickle charging the 12-volt batteries.
2W solar panel specification
Electrics

Max Power:

 Operating V:

 Operating Current :





2 Watt.

12V.

133mA.

Mechanical

Mass:

Size:

Type:

Warranty

                       A 5-year limited-warranty.

Applications

Maintain batteries of;

Cars.

SUVs.

Boats.

Tractors and more.

It maintains. It is not meant to be a battery charger.




1.06 lbs.

13.9 x 4.9 x 0.6 inches.

Thin Film.
                      How to use the 2w solar panel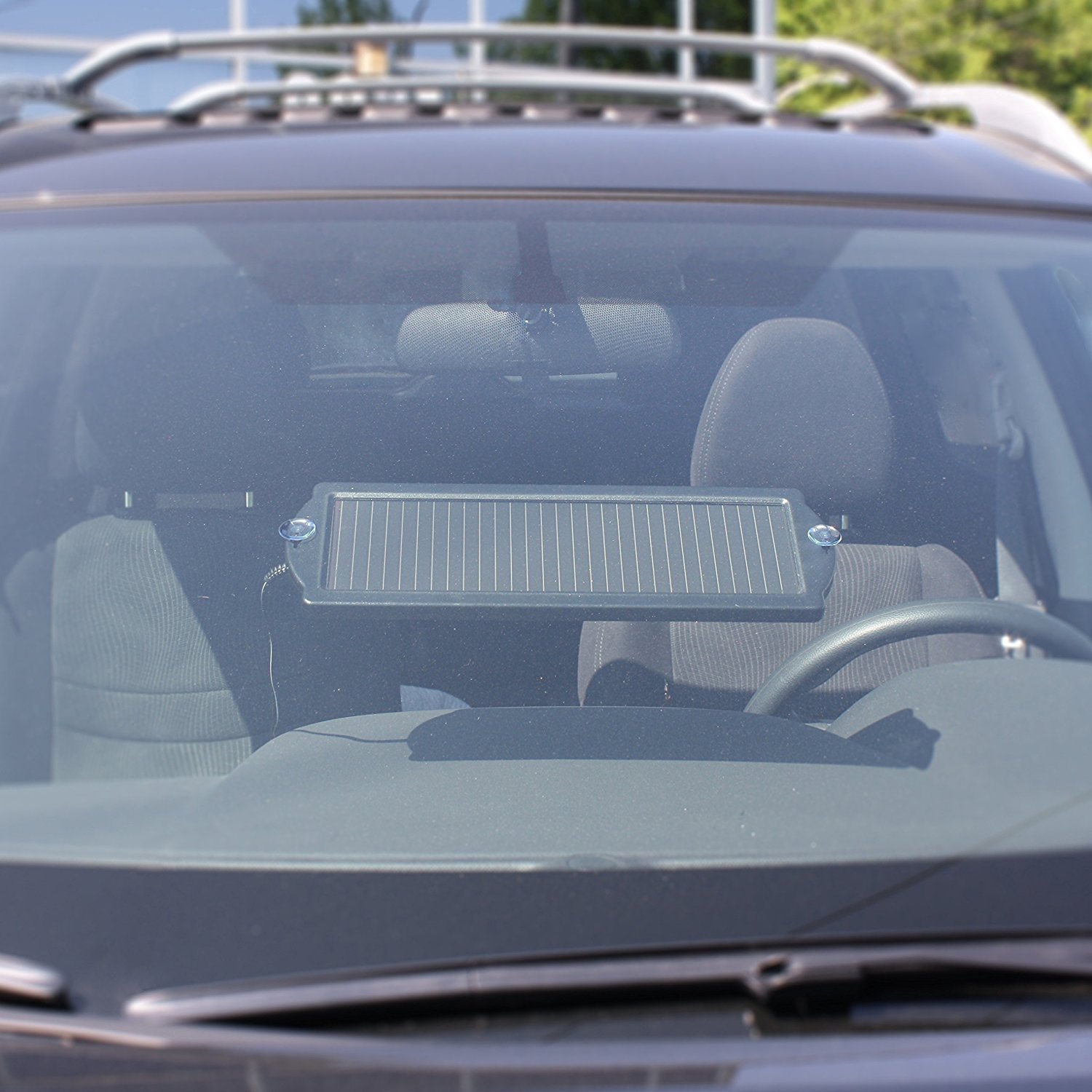 Either use the 12-volt socket in the vehicle. Or connect to a 12-volt battery via battery clamps.
It is possible to use the suction cups to stick the panel to the window. It works well, but some people prefer not to use it. They put the panel flat on the dashboard. This also works well.
You do not have to make use of a charge controller. This is  because the output is much less than 15 watts.
The 2w solar battery can ideally  maintain  12-volt batteries.
Connect and use it  to trickle charge. It will  maintain your battery through the winter time. It will operate safely without any problems. 
Inside Garage Window.
When  you store your  vehicle for a long period you can use the solar battery maintainer. It will keep your battery charged.
This handy tool will ensure you have perfect operating battery. 
Use this 2w solar panel for various applications. It can maintain the batteries of vehicles, tractors, marine and various other.
Advantages associated with the 2 watt solar module
They manufacture it with strong

ABS plastic

as well as tempered glass that is shatterproof.
This compact solar panel is easy to store while in transport.
The 2 watt solar panel can charge in different weather conditions, even when cloudy.
Simple fast connect and disconnect.
 A blocking diode brings overcharge and discharge protection.
Disadvantages
Important facts about the 2w solar panel
You do not need a controller. This  is because the output is very low.
Maintaining the 2w solar panel
In a conclusion
This 2w solar panel is good to keep your batteries up and always ready to operate.
Short and sweet: This is a high quality panel @ a fair price.
 If you purchase a product through a link on this page, I do get a small   percentage  of commission at no extra cost to you.

---