The 30W solar panel to be multifunctional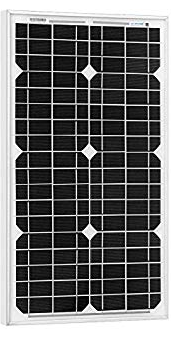 The 30w solar panel is for battery charging and to do many off-grid functions. Acopower manufactures these rigid and strong solar modules. 
They call it the  Acopower Mono Solar Panel. It is a High-Efficiency Monocrystalline module. 
The package does not include a charge controller or mounting hardware. 
The efficiency of the mono panel is 12.12% and the color is black. 
It comes with a junction box and a pair of cables attached to the solar module. As well as a pair of alligator clips for easy and quick connection to your battery.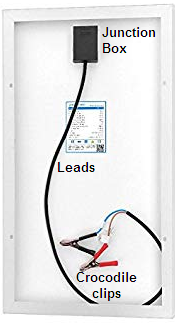 The manufacturer uses high-performance cells that they encapsulate in EVA (ethylene-vinyl acetate). 

EVA (ethyl vinyl acetate) is available in thin sheets. The manufacturers insert these thin sheets between the solar cells. Also between the module and the top surface. They also use it between the module and the back surface. 
They use anodized aluminum frames for solar panels. That provides for high-quality panel rigidity. 
One can use these solar panels for many years. You will experience no faults, defects or operating failures. 
It comes with a superb warranty for up to 25 years.
On a sunny day with 7 hours of sunlight in mid-summer, you can bargain for the generation of about 178 Watt.
That is 7 x 30 watt = 210 Watt.
Now you allow for a loss of 15% and you get 210 X 85/100 = 178,5 Watt
Ignore the 0,5 and you get a fair 178 Watt.
The 30W Solar Module Specs
Electrical

Maximum Power:


Open-Circuit Voltage (Voc):


Optimum Operating Voltage (Vmp):

Optimum Operating Current (Imp):

Short-Circuit Current (Isc):





30W.


21.2V.


18V.

1.67A.

1.18A.


Mechanical

Weight:

Dimensions:


Warranty

The 30W solar panel comes with a 5 years workshop warranty and 25-year 85% output warranty.

Applications




6lbs.


23.62X16.14X1.18 Inches.
Advantages
Disadvantages
Facts worth mentioning about the 30w solar panel
It is good practice to read labels, warnings, and directions before you use the product.
People say the modules are very impressive and well made.
The manufacturer ensures fast shipping and buyers seldom experience transporting problems.
To conclude
The 30w solar panel is a great choice. It is not the strongest solar system, but it works well even under cloudy conditions.
It provides the type of performance that people want in their specific situation. 
You can click here to buy a similar 30w solar panel.

 If you purchase a product through a link on this page, I do get a small   percentage  of commission at no extra cost to you.