The 40W Solar Panel from X-Dragon is a high efficiency module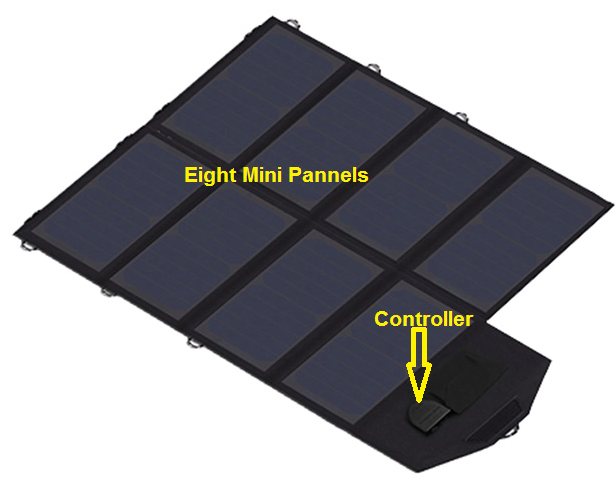 40W Solar Panel with Controller
The 40W Solar Panel from X-Dragon comes with dual-port operation. It comes with a 5V/2Amp USB port as well as an 18V/2Amp DC port.

The dual-port output can power 2 devices at the same time.

The 5v/2Amp output is for USB devices.

An 18V/2Amp output is for laptops and other devices.

The 40W solar module works with a sophisticated SolarIQ.
You can click here to buy the solar panel.
It is CE, RoHs, and FCC certified. It operates with surge protection and short circuit technology. This is to keep our devices safe and operational.

This is a foldable 40W solar panel with a peak output power of 40 Watts.

They build the module with SUNPOWER solar cells from the US. The module's efficiency is as high as 23.3%.

Contents of the complete 40w solar panel package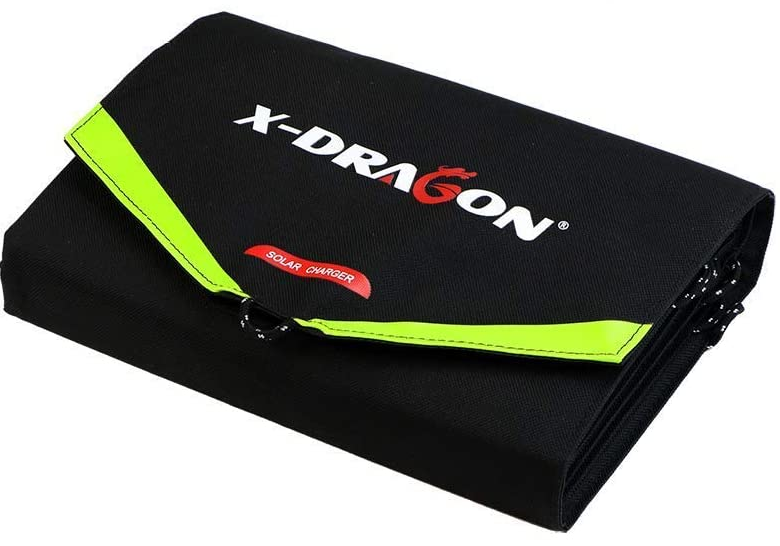 Foldable
                  
                           A 40W  X-Dragon foldable solar panel.


10 In 1 Connector & Cable.
SAE & Alligator Clips.
Car Lighter Power Adaptor.
USB Output Port.

Carabiners to attach and carry.
Built-in controller with 2 outputs. Also solar IQ to ensure safe and largest operational performance.
40W Solar Panel Specifications
Solar panels peak power:                                                                                                 40W.

Transformation efficiency:                                                                                    22%-25%.

OutPut:                                                                                 USB 5V2.8A /DC18V 1.6A(Max.)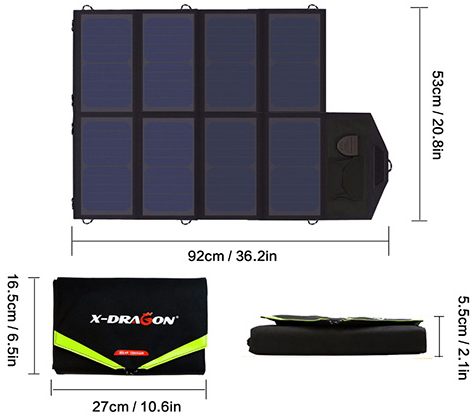 Measurements.
Folded size : 265x160 x70mm
                10.43x6.30x2.76 inch.
Unfolded size: 680x530x5mm
            (26.77x20.87x0.20inch).

Net weight:      1157g/40.80oz.
What will this 40w solar panel charge?
With the 5V USB port we can charge; Smartphones, Tablets, and iPads. Also mini, external battery packs, and other 5V USB devices. 
With the 18V DC port we can charge; 18V2A laptops, 12V car battery, and other 18V2A DC-powered devices.
40W Solar Panel Controller.
Controller and Solar IQ Technology
The 40W solar panels come with a built-in controller. It has two output ports. The one is for 5V USB devices and the other is for 18v devices.
With ample sunshine it is possible to charge 2 devices at the same time.

A built-in chip provides solar IQ to ensure the largest power delivery. It does it by adjusting current and voltage for max delivery.

A built-in LED indicates whether devices are charging and when completed.

The 40W solar panel comes with safety protection

Safety Protection
Advantages
THE handy LED indicates the state of charging.
Disadvantage
Some people complain the module is a bit heavy for carrying when backpacking.
Some facts to mention about the 40w solar panel
One of the bests around, and brilliant customer service. 
It is better to turn off a laptop before charging. That is because some laptops need a large current when operating.
It is best to charge a large battery that is compatible with this of a laptop.

With larger voltages this product will reduce the voltage drop. So the large voltage would not damage the smaller devices.

It is a good idea to cover the solar controller, not the solar panels, when in the hot sun. This is because the hot sun can damage the solar controller.
Cover it with a cloth or a towel or something.

Warranty
The 40W Solar Panel comes with 18 months no worry warranty. Also, friendly customer service.(Controller not included.)

In a conclusion
The X-Dragon 40w solar panel is a good combination of power and portability.

Use it and it can keep you going for days. 

It comes with a very reasonable price per watt.