60W Foldable solar panel with charge controller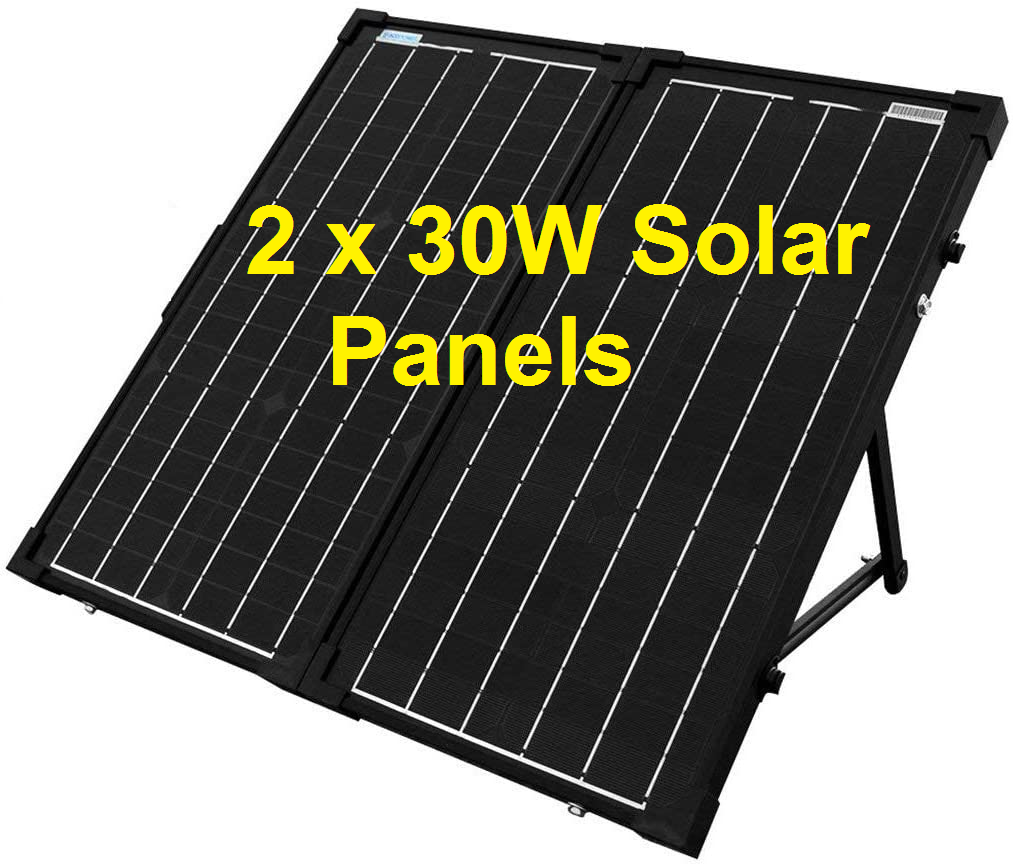 60W Foldable solar panel.
The 60w foldable solar panel operates with two portable 30-watt solar panels. This is an all-black 60W Monocrystalline portable solar module. 

The 60-watt panel is ready to use as a solar generator or to charge a battery.

We can also use it as a battery maintainer to prevent batteries from the complete drainage.
Acopower manufactures this 60w portable solar module.
The 60w solar module comes with a suitcase-style design. It has a strong handle and you can fold up the panel to carry or transport it like a suitcase.
It also comes with a handy protective carry bag. This ensures easy transportation and for saving storage.
The 60w Foldable Solar Panel Kit includes the following;
2 x 30-watt Solar Panels.
1 x pre-installed 10A Charge Controller. (Not waterproof)
Junction box per module with diodes.
1 Pair pre-installed 14ft solar cables.
60w Foldable Solar Panel Kit.
1 Pair alligator clips.

MC4 Connectors.
Anderson plug.
Fuse.
Corner protectors.
An adjustable aluminum stand.
A handle plus two latches contribute to making it a convenient and easy to use a solar briefcase.
The portable solar module is 1.2 inches thick and has a size of 13.6 x 25.4 inches when folded.
The module weighs 21.2 lbs. (9.6kgs).
You can use these solar panels for many years. You will experience no faults, defects, or operating failures.
It comes with a superb warranty for up to 25 years.
On a sunny day with 7 hours of sunlight in mid-summer, you can bargain for the generation of about 350 watts.
That is 7 x 60 watt = 420 watt.
Now you allow for a loss of 15% and you get 420 X 85/100 = 357 Watt.
Drop the 7 and you get a fair 350 Watt.
The 60w solar panel is best for low-amp systems. It is good for bringing power to smaller electronics away from the grid. You can charge a car battery with it, but it will take very long.
It is better to use as a battery maintainer.
The 60w foldable solar panel specs
Electrical
Maximum power per module :(Pmax)                                                                              30W.

Voltage at Pmax (Vmp):                                                                                                        17.8V.
Current at Pmax (Imp):                                                                                                    2 x 1.6A.
Open-circuit voltage (Voc):                                                                                                 22.3V.
Short-circuit current (Isc):                                                                                            2 x 1.82A.
Power tolerance:                                                                                                                     ± 3%.
Mechanical
Dimension:
Folded;                                                                                                         13.6 x 25.4 x 1.2 inch.
Unfolded;                                                                                                   27.2 x 25.4 x 0.6 inch. 
Weight:                                                                                                                21.2 lbs. (9.6kgs).
Applications
The 60w foldable solar panel can work as a battery ready kit or a generator ready kit, or both;

The 60w foldable solar panel is a reliable multi-functional device;
An additional solar panel (Max 60w) could be connected by MC4 connectors, for parallel charging;
Use it for hiking, camping, military use, solar panel system, caravan, RV, and boat;
Greenhouse solar panel system;
Solar pump watering systems;
It can charge a large range of batteries. This includes sealed, flooded, GEL, AGM, lead-acid, as well as other deep cycle batteries;
Cargo trailer camper;
Keeps batteries topped off;
12v LED lights throughout trailer... as well as a 12v Vent fan... and a 24" TV;
Off road with jeep;
Power a CPAP;
Popup camper.
Durable Frame
It comes with a solid strong durable frame. The frame is corrosion resistant and good for extended outdoor use for many years.


The frames are of high quality with aluminum walls.


The frame is dust-tight and waterproof with IP65 rating


The manufacturer provides a strong frame. He provides a good balance between durability and the portability thereof.
The 60w foldable solar panel charge controller
10Amp PWM charge controller.
The portable solar module comes with a pre-installed 10Amp charge controller.
This is a PWM (pulse width modulation) controller.
The solar charge controller adopts the most advanced digital technique. Its operation is automatic.
We can use the charge controller in extreme environments. It comes with high resistance against corrosion, dust, and moisture.
This charge controller protects the batteries against unsafe electrical conditions. It will be safe during surges and overcharge.
You have to use the controller when charging 12V batteries. Use the alligator clips.
For charging a solar generator with a built-in controller you use the MC4 cables.
Plug them into the cables that come with the power station.
To make the system more flexible one can use an extra extension cord. A 28 ft. cable is available from Acopower.
Use the cable between Anderson connectors. Now it is possible to move the 100 watt foldable solar panel further away from your camper.
It is also possible to buy your own MPPT controller. You can then remove this PWM controller that they install in the back of one panel.
Order of connection
Remember we should always connect the battery first. Then the load and last the 60w foldable solar panel.
When disconnecting us do it a panel, load, and last the battery.
It is advisable to connect the unit to the batteries before you put it in direct sunlight. Now it will recognize your batteries for charging. This is for reducing the possibility of malfunctioning.
Stats of the 10Amp PWM charge controller
Nominal system voltage:                                                                                     12/24VDC Auto.
Max. PV input voltage                                                                                                                   32V.
Rated current                                                                                                                            10Amp.
Working Mode:                                                                                                        PWM Charging.
Working temperature:                                                                                             -35℃ to +55℃
Weight:                                                                                                                                       0.15 Kg.
IP Rating:                                                                                                                                Yes, IP30.
How to operate the 60w foldable solar panel
The pre-installed wires and 2 stands allow for easy and quick set up.

Locate a sunlit area. Be sure it is a spot without any obstacles that can the sun.
Now it is a matter of unfolding the two panels and faces it towards the sun. It will immediately start producing an output.
When the LEDs are glowing the panel is charging.
It is best to adjust the solar panels to realize max sunlight for as long as possible during the day. That will ensure the most power output. Use the kickstands for proper directing.
Always connect the positive and negative leads according to the prescribed polarity.
Remember to read all the safety precautions. Then you put the 60w foldable solar panel into operation.
A proper battery clip connection will prevent short circuits.
Be aware that anything that covers the surface of the 60w solar module can reduce the output power.
You have three choices of operation;
1) Use the built-in charge controller with alligator clips to charge a 12-volt battery.
2) Use the 60w portable solar panel to charge a solar generator.
3) It is possible to charge 2 items at the same time.
Advantages
The support legs for the panels are very stout and easy to set up. With these pre-installed stands, you do 

not need  mounting brackets to hook up on the ground.



This is a great product. For the construction they use lightweight, but very strong aluminum.




These panels are compact and are a breeze to set up.




The kit comes with a great rugged zipped case that is strong to protect the unit.




All the components and cables fit inside the compact unit when folded. Making it very convenient to store and transport.




The aluminum legs and attachments are solid and strong.




The unit stores in a nice, protective transport case and the size/weight is easy to handle




ACOPOWER provides cost-effective solar panels and Free Professional Engineering Services. While their service is excellent.




With a dual charging capability, it can power two different devices/batteries at once.




The 60w foldable solar panel comes with high conversion efficiency.
Strong Case.
The charge controller comes with a LED display that is informative and easy to read.




The material of the carry bag is strong. The manufacturer does a good job of providing a handy article that can last for a long time.




With the 2 standing legs and pre-installed wires setting it up, is quick and easy.




The solar panel is waterproof and weather resistant.




It comes with electronic protection from overcharging, discharging, and overheating.




The charge controller comes pre-installed, no wiring and installation are necessary. It's ready to use as soon as you take it out of the box.
Disadvantages of the 60w portable solar panel
The charge controller is not waterproof. It is only IP 30 rated.
It would be nice if they could add a small rain shield to hang down the back of the panel. This is to protect the charge controller when you get rainy conditions.
A suggestion for improvement is to provide a clearer set of user instructions.
To Mention
Great communication from the seller.




The 60w foldable solar panel provides a good trickle charge throughout the day.




It packs well and it works well.




The panel comes in a protective zippered case. It opens in a jiffy and includes a built-in controller and cables. It is a plug and play item which is a breeze to set up.
Warranty
Panel:
The solar panel comes with a 5-year workmanship warranty. Also a 25-year 85% output warranty.
Solar Charge Controller:
The controller itself comes with a 1-year warranty.
In a conclusion



The 60w foldable solar panel from ACOPOWER is a cost-effective module.

The warranty and free professional engineering help are most welcoming.

The solar module delivers a proper and satisfactory output.
 If you purchase a product through a link on this page, I do get a small   percentage  of commission at no extra cost to you.

---