The 70 watt solar panel kit is ready to be  charging batteries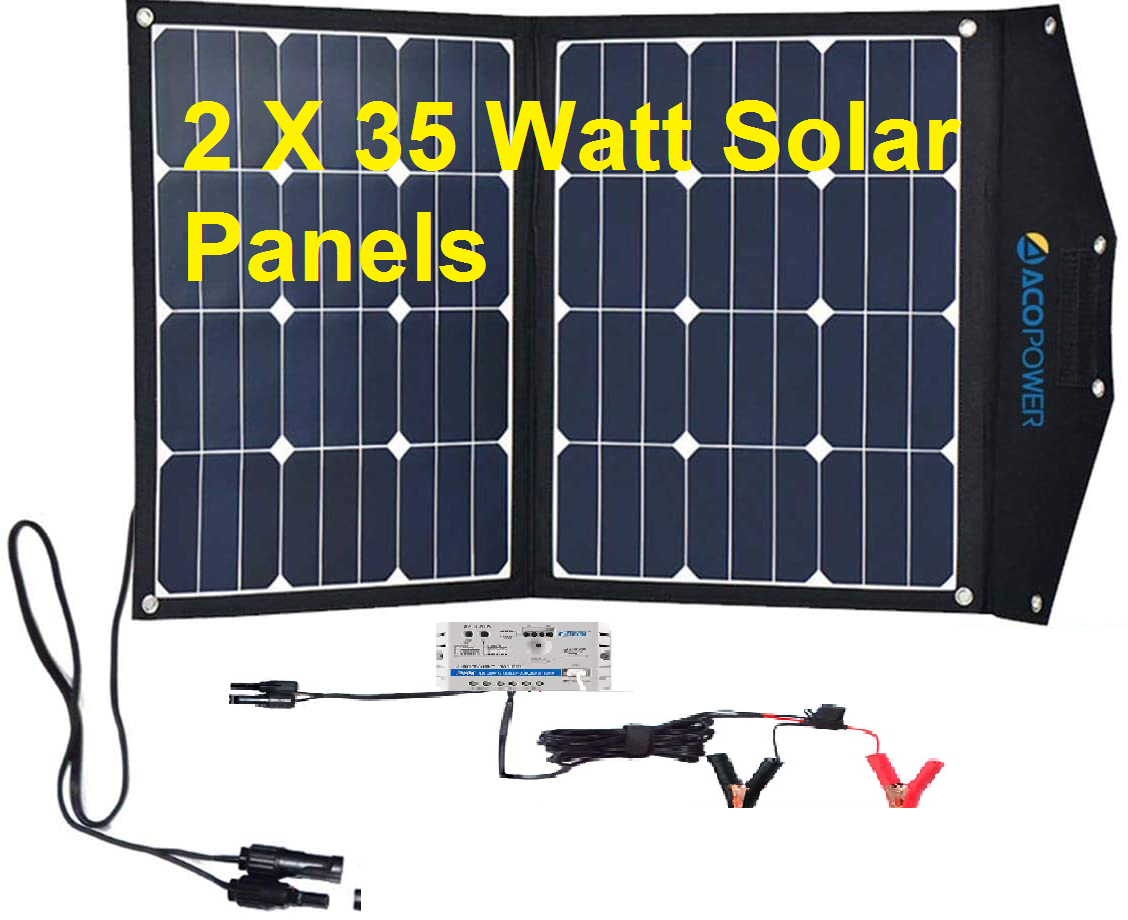 75 Watt Solar Panel.
The 70 watt solar panel kit is ready to operate as a solar generator.
The module also comes with a USB 5V output for phones and other USB devices.
Together with the controller, you can use it for battery charging.
It is a portable solar power kit. One can also use it as a battery maintainer to prevent batteries from complete drainage.
Acopower supplies the Monocrystalline portable solar module. It exists of 2 X 35-watt solar panels. This is a suitcase kit with an own handle to carry, it is portable, quick to set up and easy to transport.
The Monocrystalline cells are from Sunpower. It comes with a high conversion efficiency of up to 25%.
The 70 watt solar panel kit contains 2 X 35 Watt solar modules.
The two panels fold together and they use velcro tabs to hold them in position.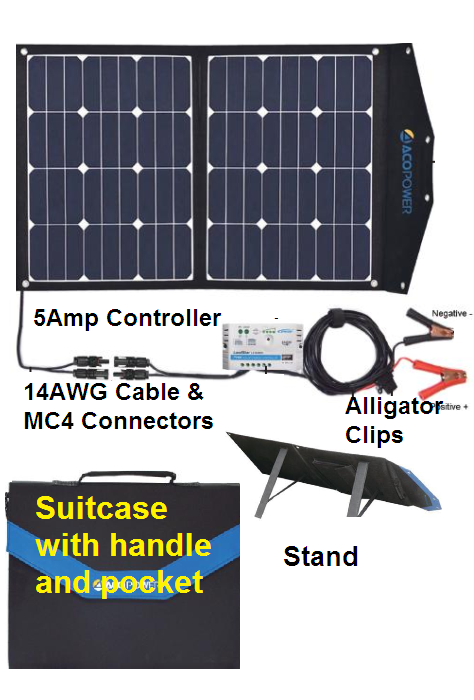 75 Watt Solar Panel Kit.
The 70 watt solar panel kit comes with a;
User manual.
Alligator clamps.
Cables.
MC4 connectors.
A 5 Ampere PWM charge controller. With LED indicators.
A fuse.
Adjustable stands, as well as a suitcase with a handle and a pocket.
The portable solar module weighs 3.8kg (8.4lbs).
It is o.2 inch thick and has a size of 39.2  X  22 inches when open. When folded it is 0.59 inch thick and has a size of 22 X 15.7 inches.
 If you purchase a product through a link on this page, I do get a small   percentage  of commission at no extra cost to you.

The 70 watt solar panel kit specs
Electrical
Maximum power(Pmax):                                                                  70W.
Voltage at Pmax (Vmp):                                                                    18V.
Current at Pmax (Imp):                                                                    3.8A.
Open-circuit voltage (Voc):                                                               21V.
Short-circuit current (Isc):                                                                4.1A.
Operating temperature:                                                    -40°C to 85°C.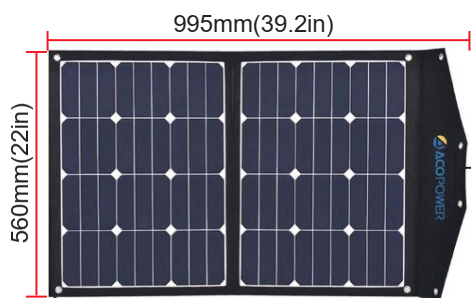 Unfolded.
Power tolerance:                                   ± 3%.

                             Mechanical
Open:                       39.2 X 22 X 0.2(inches).
                           (995mm X 560mm X 4mm.)
Folded.
Folded:                    22X 15.7 X 0.59(inches).
                               50mm X 400mm X 15mm.
Weight:                                        3.8kg / 8.4lbs.

                                               Applications
Car-camping adventures;
Popup trailer;
Dry camp;
RV;
Ham radio;
Charge your car battery, marine boat battery as well other 12V portable lead acid and lithium batteries;
It also charges your solar generator;
(The recommendation is to use ACOPOWER 400wh and 220wh Solar Generators.)
It can work either as a solar panel or a solar panel kit.
The Charge Controller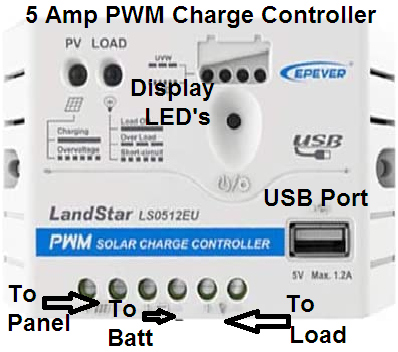 5 Amp PWM Charge Controller.
This solar panel module comes with a 5A pre-installed solar charge controller. This is a PWM (pulse width modulation) controller.
This charge controller protects the batteries against unsafe electrical conditions. It will be safe during surges and overcharge.
You have to use the controller when charging 12V batteries. Use the alligator clips.
To charge a solar generator with a built-in charge controller you can use the MC4 connectors. Plug them into the cables provided with your solar charge controller and charge.
It is possible to charge a solar generator and a 12V battery at the same time.
The controller also comes with 5 volts 1.2 Ampere USB port for small devices.
The charge controller and the USB port will only respond once you connect it to a battery.
Acopower sells 14AWG extension cable. This is to use before the charge controller if needed.
Order of connection
Remember we should always connect the battery first. Then the load and last the 70 watt portable solar panel.
When disconnecting us do it panel, load, and last the battery.
Stats of the 5Ampere PWM charge controller
Working voltage:                                                                              12Volt.
Working current:                                                                            5 Amps.
USB Output Port:                                                              5Volt/1.2 Amps.
Working Mode:                                                                  PWM Charging.
Weight:                                                                                   15.6 ounces.
IP Rating:                                                                    No, not waterproof. 
How to operate the 70 watt solar panel kit
The pre-installed wires and stands allow for easy and quick set up...
Locate a sunlit area. Be sure it is a spot without any obstacles blocking the sun.
Now it is a matter of unfolding the 2 panels and faces it towards the sun. It will immediately start producing an output.
It is best to adjust the solar panel to realize max sunlight for as long as possible during the day. That will ensure the most power output. Use the kickstands for proper directing.
Always connect the positive and negative leads according to the prescribed polarity.
Remember to read all the safety precautions. Then you put the 70 watt foldable solar panel into operation.
Proper battery clip connection will prevent short circuits.
Be aware that anything that covers the surface of the 70 watt solar panel can reduce the output power.
Cleaning the surface of the 70 watt solar panel kit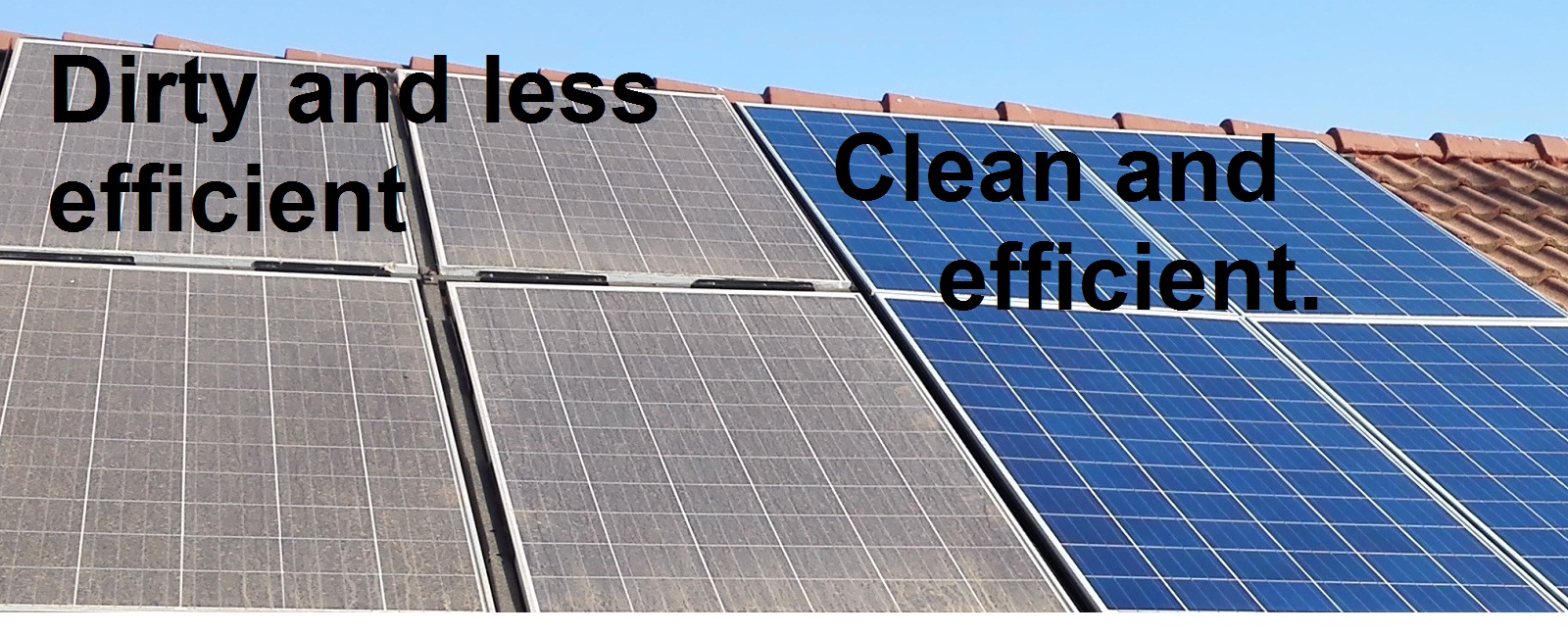 Clean to be efficient.
Remove anything that covers the surface of the solar cells.
Sometimes dust and dirt can cover the surface of  solar panels.
This can have a large decrease in efficiency and reduced performance.
Clean the surface with a soft brush. Then use a damp clean soft cloth to remove remaining dust and dirt.
Advantages
The 70 watt solar panel kit has a conversion efficiency of up to 25%.


The module is thin and lightweight.


This is a good solar kit with great customer service from Acopower.


This 70 watt foldable solar panel kit is a multi-purpose module. It operates many different devices.


The solar module comes with fair outdoor durability. It comes with industrial-strength

PET polymer lamination

. The manufacturer does a good job of providing a handy article that can last for a long time.


With this portable solar panel, you can bring quick charging anywhere where there is sunshine.


The fabric and cell surface is waterproof for outdoor usage.


The manufacturer uses Velcro design to keep the panels closed up.


With the 2 standing legs and pre-installed wires setting up for max power output, is quick and easy.


The case includes a handy pocket to hold accessories.


The 120 Watt foldable solar panel is light, compact, easy to handle, and easy to carry.


The charge controller comes with LED's that are indicative and easy to understand.


With the MC4 connectors, it is easy to add extension cables.


The carry case with handle is an added bonus.
Disadvantages of the 70 watt solar panel kit
It is good to have a USB charge port, but it will only work when you connect to a battery.
Some people suggest Acopower to change the LED color from blue to red. Seeing the lights will be so much easier then, no matter how bright it is outside.
To Mention
Compared to similar solar modules the 70 watt solar panel kit is of high quality.


The kit continues producing power even when partly covered.


This is a good panel, setup is straightforward, it works every time and it is a sturdy module.


The kit is light and easy to carry and the fold out legs are a nice added feature.


The module is small and easy to store out of the way, when not in use.


Remember it will not charge a battery that is bad or low on charge, but it is a good battery maintainer.


Remember to do your load calculations, to get the right size of the solar kit before you buy it.
Warranty
The solar panel itself comes with an 18-months workmanship warranty. As well as a 25-year 85% output warranty.
The controller comes with a 1-year warranty.
In a conclusion



The 70 watt solar panel kit is flexible. You can use it with a variety of devices.

It is well built and a definite plus if you are looking for a portable solar module.
Content on this site contains affiliate links. You can click to read  about commission payment.
---