The 80 watt solar panel to be multifunctional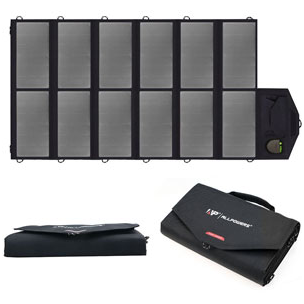 80 Watt solar panel.
This 80 watt solar panel is a  battery maintainer that is foldable. All Powers manufactures 12 small solar panels that produce an output of 80 watt.
The 80 watt solar panel is a preferable option for campers and hikers. This is if they want a fair power output, but portable and easy to use. It is a handy portable that folds up into its own carry case.
The carry case is easy to use and you can fit it into a small space when folded.

The compact size makes it easy to transport around on camping or hiking trips.

This is a high-efficiency solar module which they manufacture in the USA.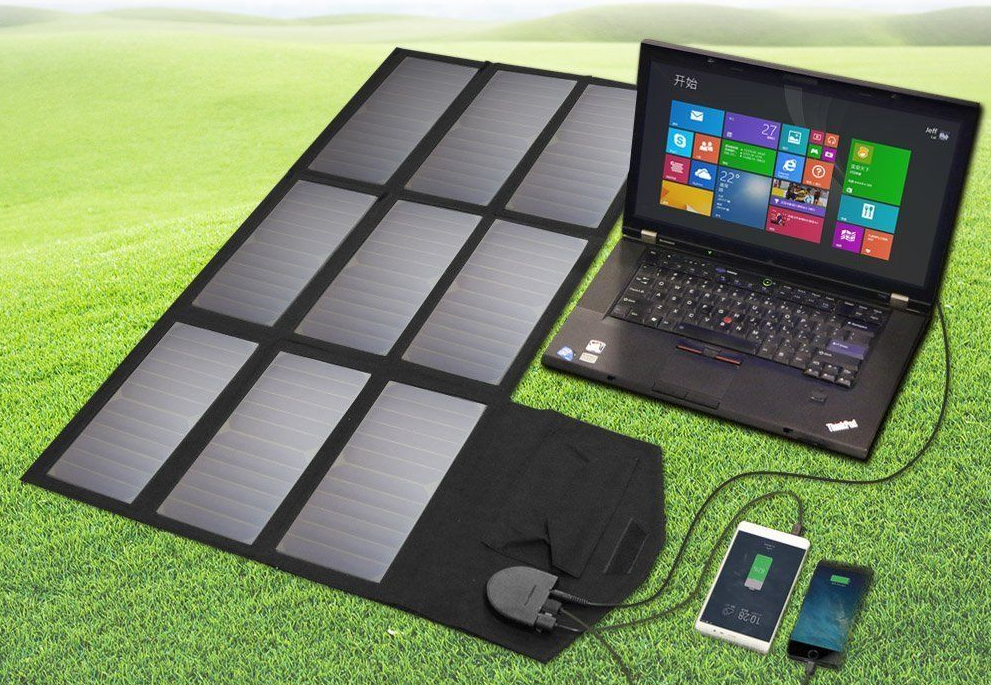 The Allpowers comes with three outlets to charge your devices. This includes two 5V USB ports as well as an 18 volt DC port.
The DC port allows you to charge most laptops lower than 21V and the 5V USB ports are to charge 5V powered gadgets.
The 5V USB ports use iSolar Technology.
It has a regulator to ensure stable output. It comes with short circuit and surges protection technology to protect your devices.
The 80 watt solar panel also comes with;
Ten laptop connectors and a DC cable.
USB cables and a cigarette lighter plug.
A clip line as well as an instruction manual.
Content on this site contains affiliate links. You can click to read  about commission payment.
Specifications of the 80 Watt Solar Panel 
Electrical

Max Watts:


Load Output:




80W.


2x 5V 2.4A (Max.USB) 1x 18V 4A (Max DC)

Mechanical

Weight:

Size when folded: 

Opened Size:

Warranty

 Allpowers includes an eighteen-month product guarantee.

Applications

The 80 Watt solar module is ready to use outdoors as well as indoors.

Installed eye holes make it easy to attach to your backpack when hiking.

You can place it on any flat surface; it will be in operation as long as it is facing the sun.




1.8 kg/63.5 oz.

31x19x9 cm/12x7.5x3.5 inch

135x60x0.6 cm/53x24x0.24 inch.
Advantages
This 80 watt solar module is one of the stronger foldable solar panels on the market.

The panel can charge up to three devices at once.
It uses a small space and makes it easy to transport around on camping trips.
It is compact and you can fold it into the size of a handbag to in fact become its own carry case. It has a handle to carry the case when folded.
The foldable solar panel is durable. It comes with a tough exterior for protection against dust, water and shock.
The system is battery free and it realizes a high efficiency of up to 23% when in the proper sunshine.
It uses advanced technology for fast and save charging.
It comes with eyeholes to attach to your backpack for easy handling.
Disadvantages
This is a bit of a low wattage output, but it is small, light and compact. With a bigger system you get added weight and size.
Facts worth mentioning
Always remember it is better to close your laptop when charging.
To get most output you need direct sunlight, but you will still get an output even on cloudy days. It will be a reduced wattage.
To conclude
The 80 watt solar panel is  great for backpackers. It is really meant for campers and backpackers.

It provides the specific output that people want for their own situation.
---