The 10 watt solar panels can be used to maintain batteries
These 10 watt solar panels make life much easier. It is the Battery Tender solar panel. It charges and maintains your 12-volt batteries.
The thin film (amorphous) panels can charge  batteries in  weather conditions that do change occasionally.
| | |
| --- | --- |
| | It comes with an own temperature compensation unit. This is to ensure operation at temparature from between -18 °C and 50 °C. |
It also comes with a mounting hardware. They include a set of battery connectors as well.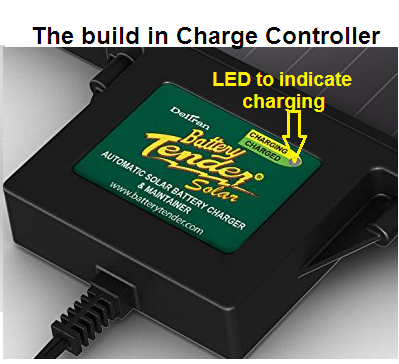 The 10 watt solar module has it's own built in charge controller. There is also a small LED on the panel to let you know if it is charging.
Wire length from the panel is 5 feet and to battery clips 2 feet. Giving a total 7 feet cable.
 If you purchase a product through a link on this page, I do get a small   percentage  of commission at no extra cost to you.

There are lengths you can buy if need to.

What a smart piece of equipment that does not fail you. 
The 10 watt solar panels Specs
Electrical
Maximum Power:                                                                                           10W.
Maximum System Voltage:                                                                               2V.

Optimum Operating Current (Imp):                                                                  3A.
Mechanical
Weight:                                                                                      4.6 pound.
Dimensions:                                                                   28 x 14 x 1 inches

Warranty
Applications
 Residential & Commersial.
It maintains the batteries of snowmobiles,
cars
 and motorcycles.
Also boats,
tractors,
fence energizers
and many more.

How do the 10 watt solar panels work? 
The 10 watt charger  maintains  12v batteries.
When you park your vehicle for long periods you find a sunny spot for the charger. Connect it to the battery and leave it connected.
The battery will stay in top charged conditions. No hazzles.
Advantages of the 10 watt solar panels
The system makes use of a three-step microcontroller. This is for precise and safe charging of your batteries.
The 10 watt solar panel system is spark-proof and waterproof. This is to ensure safe outdoor installations.
It comes with a built-in temperature compensation sensor.
The 10 watt solar module comes with a 5-year warranty.
Included is a status light. The light indicates the operation mode of the charger. It also indicates the condition of the battery that is being charged.
The charger produces a decent output even on cloudy days.
A disadvantage
The availability of mounting brackets for permanent fixtures would be welcome.
Care to be taken.
Do not operate the 10 watt solar panels where ventilation is a restriction. This is to prevent overheating of the system. It also prevents the build-up of gasses from the battery that is being charged.

Some important facts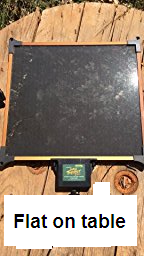 You can mount the system outside at about any flat surface that is available.

You can also place it inside your vehicle. Best is on the dashboard facing the sun and it will deliver efficient charging power.



The Battery Tender solar charger operates auotomatic. You can leave it for long periods connected to the panel and the battery to trickle charge.





The solar charger works great! It's got a nice long cord. You can set it on your car's dashboard, route it out the door and into the engine compartment.
In a conclusion
The 10 watt solar panels are terrific chargers  that are worth every penny.

It keeps your batteries at a charged level.

Your batteries are ready for use even in the most difficult circumstances.