The 200 watt solar panel kit to be used as a complete all in one

system
The 200 watt solar panel kit known as the Renogy 200 watt starter kit. It is ideal for persons that are new to solar. 
It is also handy for people that need solar electricity for off-grid applications.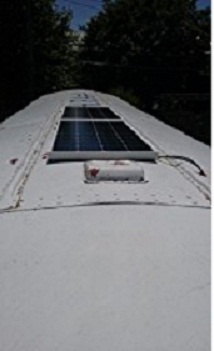 200 Watt solar panel.
Use it for sheds and cabins, boats, trailers and RV's. One person has mounted it on top of a school bus.
He is utilizing the sunshine while driving during normal daytime hours. 
The  200 watt solar module  includes two Renogy 100W 12V Monocrystalline  Panels.
A 30Amp PWM Wanderer Charge Controller, a 20ft 10AWG MC4 Adaptor Kit, and an 8ft 10AWG Tray Cable. 

A pair of branch connectors and two sets of Z-brackets are also included.



 If you purchase a product through a link on this page, I do get a small   percentage  of commission at no extra cost to you.

This 200 watt solar panel specs
Electrical

Max Watts:


Max Syst Volts:

Open-Circuit Volts (Voc):

Optimum Opere Volts (Vmp):

Optimum Operate Amp (Imp):

Short-Circuit Amps (Isc):





200W.


600V DC (UL).

22.5V.

18.9V.

5.29A.

5.75A.


Mechanical

Mass:

Measure:

CellTypes:

Warranty

There is a 25-year transferable output guarantee on the solar panels.

It guarantees 5 years of a 95% efficiency rate.

For 5 to10 years, it guarantees a 90% efficiency rate and from 10 to 25 years an 80% efficiency rate.

It includes a 5-year material and workmanship warranty on the panels.




40lbs.


47 x 21 x 3 inches.

Monocrystalline/Polycrystalline.
Applications
Off-grid applications, such as:

RVs.
Trailers.
Boats.
Sheds.
Cabins.
Operating the 200 watt solar panel kit.
The Renogy Starter Kit is easy to use and handy for a variety of applications.
Panels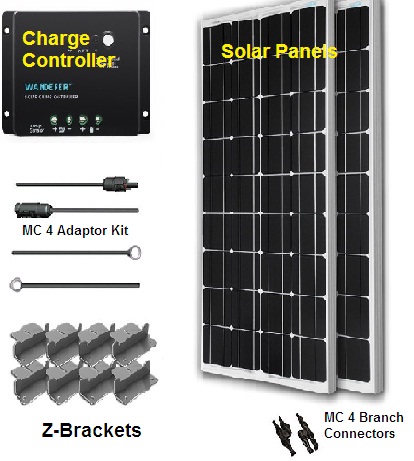 Two Renogy Premium Grade A High Efficiency 100 Watt solar modules are in use. It can be Monocrystalline   or   polycrystalline solar panels. 
You can decide between Monocrystalline and the polycrystalline panels.
Branch connectors
The Renogy MC4 branch connectors connect the two PV modules in parallel. The pair of Y connectors maintain the voltage of the solar panels to match the size of the battery. 
The MC4 connectors ensure a tight and waterproof connection.
Controller
They have upgraded the Renogy Wanderer 30Amp PWM Charge Controller.  It is  30 amp PWM and negative ground. 
With the Renogy Wanderer 30A PWM Charge Controller, you can expand your system up to  400 Watts. It has electronic protection functions. This is to prevent damage from system faults and installation mistakes.
The kit is also available with an MPPT charge controller, but it is a bit more expensive. This is a quality controller though, and the efficiency is so much better. 
The Renogy Adaptor Kit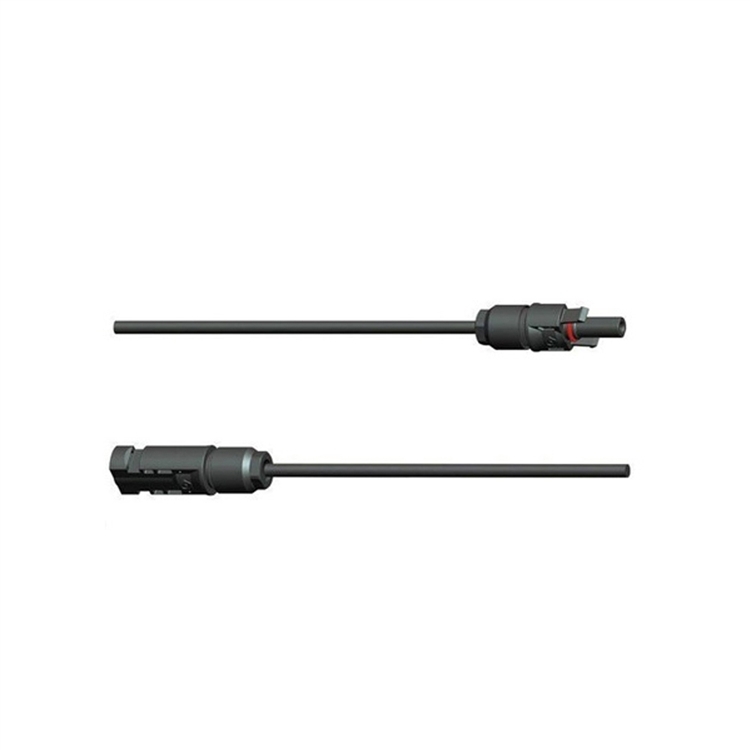 The Renogy Adaptor Kit is a set of two wires. It connects the Renogy solar panels to the charge controller. 
The adaptor kit includes MC4 connectors on one end. It has exposed wires on the other end to lead into the charge controller.
It is water resistant and can withstand extreme hot and cold conditions.
This wiring kit is ideal for Renogy Off-Grid systems in the range from 100W to 400W. 
The Renogy 10 feet 10AWG adaptor kit allows for 10 feet long between the controller and the module. 
It is possible to customize the links depending on the unique needs of the customer.
Tray Cable
The kit now includes an 8ft 10AWG Tray Cable to connect your charge controller and battery.

The Renogy
Z-Bracket
Mount System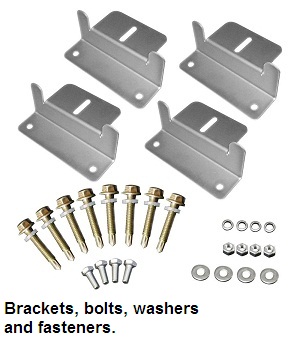 The system is to help with the installation of panels generally in off-grid situations.
The system comes complete with brackets, bolts, washers, and fasteners.
The system is easy and affordable and it is quick to do an installation.
Advantages
With the 200 watt solar panel kit, you enjoy grid Independence and quiet power production.
The controller improves system performance and it increases battery life.
Even on the cloudy day efficiency of the 200 Watt solar kit is very good. It keeps the battery loaded at a reasonable level.
This is a user-friendly system. Even for people with limited knowledge and experience, and it is easy to install.
Warranty on panels
It guarantees five year of a ninety five % efficiency.
 5 To10 years a 90 percent efficiency  and then from 10 to 25 years eighty percent efficiency.
Warranty on accessories
The system comes with a 1-year warranty on material.

Solar cell efficiency
The system performs excellently in low light environments due to bypass diodes. 
The panels come in a corrosion-resistant aluminum frame. That ensures a long life for extended outdoor use. 
The system includes electronic protections; overload, charging, short circuit and reversed polarity. 
Holes are pre-drilled on the back of the panel ensuring fast and secure mounting. 
With the Renogy Wanderer 30 Amp PWM charge controller it is possible to expand your system up to 400 Watt.
Disadvantages of the 200 watt solar panel
The controller is not water resistant. It is better to install the controller indoors. In a well-ventilated, cool, and dry environment.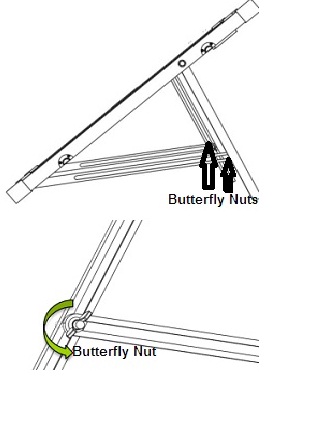 Something special
If you can build a stand and mount the panels on it, you can set the 200-watt solar panel system upon the ground.
Now you can turn the panels every couple of hours to track the sunshine. In this way, you can average more hours of direct sun on the panels.
In a conclusion:
The 200 watt solar panel kit is an ideal system for newbie's.

Also to all people in need of off-grid applications.