A 30 watt solar panel to be rigid and strong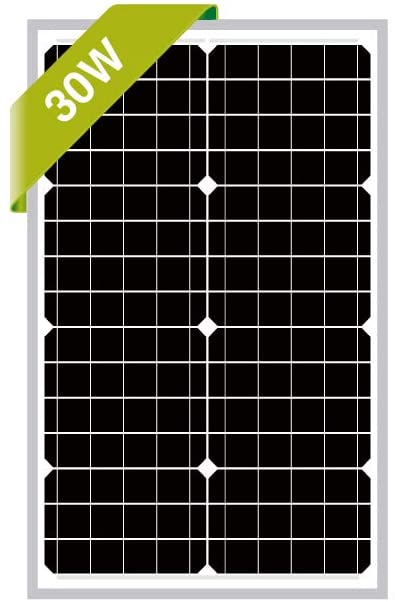 30 Watt Solar Panel.
The 30 watt solar panel is a high-performer.  NewPowa is the distributer of  the rigid and strong panels.
It is called the NEWPOWA 30 Watt 12V Monocrystalline  solar panel. 
Mounting brackets are not included. You have to get extra if require. 
You do need a charge controller for battery charging.

Also if you want  power for an AC load 110 or 220v, you have to use an inverter.
The 30 watt solar panel watt solar panel comes with a  3 feet lead with Anderson connectors attached to a junction box.

Back of panel.
Also an extra 1-foot cable with Anderson connector attached to it.

The 30 watt solar panel is a high-efficiency module and is a black color.
They encapsulate thehigh-performance cells in EVA (ethylene-vinyl acetate).
It's available in thin sheets. They insert the sheets between the cells. Also between panel and top surface, and between panel and surface at the back.
Frames are of heavy-duty anodized aluminum, providing high-quality panel rigidity.
Utilize the panels fault free for decades.
In mid-summer,  with 7 hours of sunlight a day one  can get an output of  180 watts.

You have 7 x 30 watt = 210 watts.
Take in to account a 15% and it will be 210 X 85/100 = 178.5 Watts.
Round to 180 watt.
Use the 30-watt solar panel  for low-ampere systems. You can use it to bring power to small off-grid appliances.
The 30 watts solar panel specification
Electrics
(Pmaximum):                                                                                                                          30W.  
Volts at Pmax(Vmp):                                                                                                            17.0V. 
Amp at max power(Imp):                                                                                                   1.76A.
O C voltages (Voc):                                                                                                             20.23V.
Short-circuit amps (Isc):                                                                                                    1.87A.

Operating temp:                                                                    above -40°C and below 85°C.
 Maximum system voltages:                                                                                    1000V  DC.
Mechanical
Module Dimension (mm/in.):                              (21.54 x 13.39 x 1.1 in).
Weight (kg/lbs.):                                                                 3.2kg(7.1lbs).
Applications
Charges a trolling motor battery;

Keep small electronic devices running;
Charge batteries for a gate opener;
Micro-solar system in crafting cabin;
GoPro;
Maintaining a car battery;
For electric fence;
Remote gate battery pack;
Fence charger;
Travel trailer;
Garden water pump;
Home;

Boat;
Camping;
RV;
Vehicle.
Advantages
The panel is very well made and it comes ready to use. It is sturdy, attractive, and efficient.
The module charges in cloudy and lower light conditions.

Anderson Connector.
It is built with a durable TPT back sheet for heat dissipation. That ensures better panel performance and an increased lifespan.


The pre-attached 3ft+1ft wire with Anderson connectors makes the 30-watt solar panel ready to use.
Disadvantage of the 30 watt solar panel
Some people want the initial power cord to be a bit longer.
To Mention
The solar panel is easy to move throughout the day for the best solar collection.


A good idea is to build a frame to mount the charger to keep the angle of sun exposure at most.


The module comes with fast shipping and packed in a sturdy box.


This is a quality built panel, with flawless joints in the aluminum frame. Also, a neatly coiled wire attached to the junction box.
Warranty
The module has a two year limited workmanship as well as material warranty.
Also ten years 90% output warranty and a 25 years with 80% output.
To conclude
It is a  Newpowa  30 watt solar panel that performs flawlessly.
If you buy it you will have a good investment ensuring cheap power.
---