The 40 Watt solar panel kit to be operating with a combination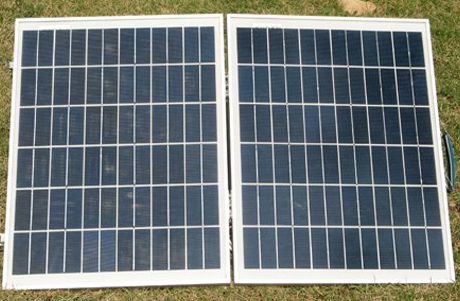 The 40 watt solar panel kit works with two portable polycrystalline solar  panels. This is to produce a required output.
They manufacture the  40 watt solar panel with a charge controller that is built-in. Use it as a battery charger or a solar generator.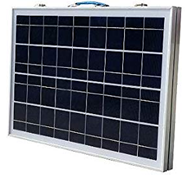 Eco-Worthy manufactures this 40 watt portable polycrystalline solar module. 
Composed of a multi-crystal solar cell with efficiency of over 17%.

The 40 watt solar panel has a suitcase-style design with a strong handle. Fold it up and carry or transport it like a suitcase.
It comes pre-wired for 12-volt battery charging. 

The 40 watt solar panel kit exists of 2 X 20 Watt solar modules, a 3 Amp charge controller and a solar panel handbag.
Also a pair of pre-installed 10 feet solar cables and a pair of 30 Ampere alligator clips. It comes with an aluminum stand that is adjustable. As well as a handle and latches.  
There is a 25 year warranty.

In mid-summer, with 7 hours of sunshine per day, you can bargain for the generation of about 230 wattages.
It is 7 x 40 watt = 280 watts. 
Provide for 15% loss to get 280 X 85/100 = 238 Watt. 
Ignore the 8 and you have 230 Watt. 
How to operate the 40 watt solar panel
Locate a sunlit area. You unfold the two solar modules. Direct the surface at the sun and it will produce an output. 
Avoid a spot with obstacles that can block the sun.  
Adjust the solar panels for max sunlight during  day time. That ensures most power output.  
Remember when connecting;
First the battery to the charge controller, then the load and last the solar module.  
When disconnecting;
Do it the other way round. Module, then the load and last the battery.  
Always connect according to the prescribed polarity. Read the safety precautions, and then put the 40 watt solar module in operation.  
Be aware of sharp objects. It can damage the surface of the panel and cause reduced output..  
Avoid short circuits with proper battery clip connections.
Remember objects that cover the surface of the 40 watt module can reduce output. 
The Charge Controller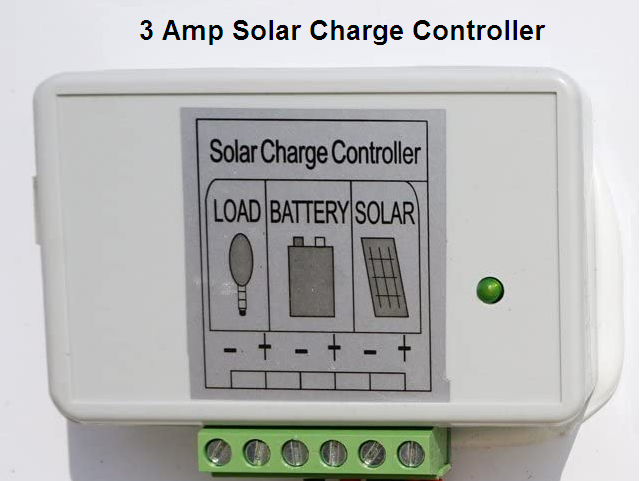 This 40 watt solar panel comes with a 3 Amp solar charge controller.  
It's purpose is to protect the batteries when charging it.
The 40Watt Solar Module Specs
Electric

Max Power:


Vop:

Working current(Iop):

Optimum Operating Current (Imp):

Short-Circuit Current (Isc):





40W.


17.9V.

1.7Amp.

4.5A.

4.95A.

Mechanical




Weight:

Dimensions:

When Folded:


Warranty

The 40 watt solar panel comes with a 90% output within the first ten 10 years.




After 10 years it guarantees an 80% output for up to 25 years.

Applications

You can use it for hiking trips, for camping, as well as military use, solar panel systems, caravans, RV's, and boats.

As well as for solar pump watering systems and greenhouses. 





4.6kgs(10.15lbs)


1.38 X 22 X 43.3  inches.

1.38 X14.5 X 20.6 inches.

Advantages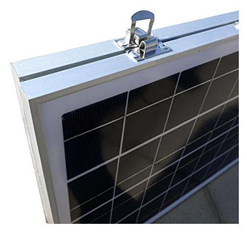 Disadvantages
The tiltable legs are a bit short and do not tilt the module up very high. There is plenty of room inside the folded case and thus you can change the legs to adjust length.




Some people feel that the folding leg mechanism is a little weak.




When folded the panels face outward. Be careful not to scratch when moving.




One would like to see it fold the other way and keep the solar panels inside for protection.
To Mention
You can keep the shipping box to store and transport it in.




The corners are very sharp. Handle with care.
Conclusion
This 40 watt solar panel is inexpensive and efficient.
Eco-Worthy makes a great product at a competitive price.

Use it for the proper application and you will experience years of free electricity.
 If you purchase a product through a link on this page, I do get a small   percentage  of commission at no extra cost to you.