Goal Zero Nomad 7 Solar Panel to be User Friendly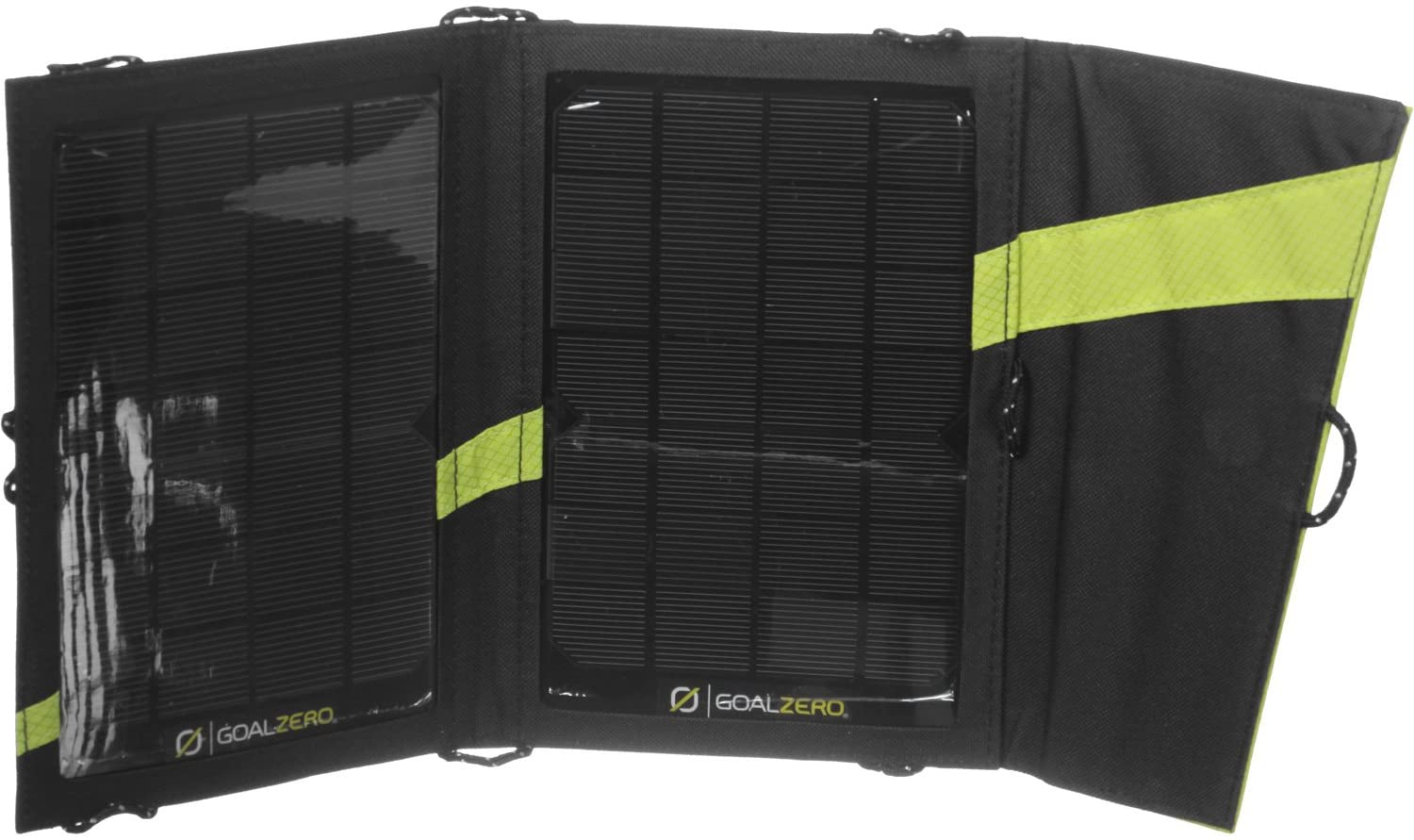 The Nomad 7 solar panel is compact and versatile. It can produce 7 watts of power from the sun at peak time.
The Nomad 7 recharges AA batteries right from the sun. Also most USB and 12V devices, but not tablets. 
The module is a foldable solar briefcase. 
It is a handy piece of equipment to use for charging your USB devices and many other functions.

The 7-watt solar briefcase is from Goal Zero. It is a plug and play solar system and easy to set up and use.
Goal Zero is a good company to deal with. The company cares about its customers with a high emphasis on after-sale service.
The Goal Zero Nomad 7 Solar Panel is ultra-lightweight, portable as well as, weather-resistant.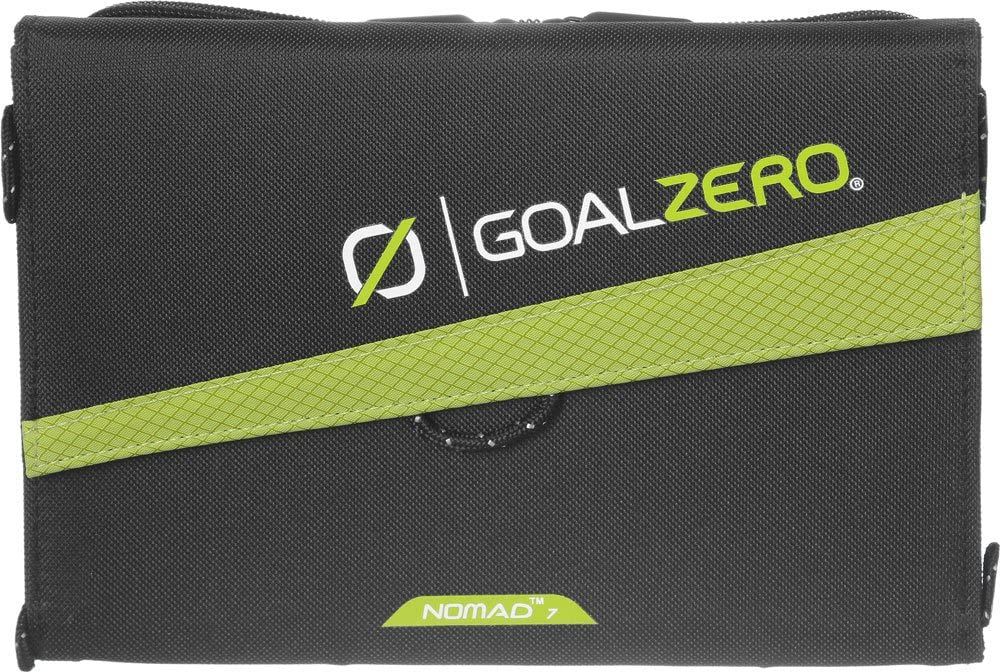 The 7 Watt Foldable Monocrystalline Solar Panel briefcase includes the following;
2 x Mono Solar Panels.
One junction box in the poach at the back of the briefcase. The junction box provides for some outlets for multipurpose usage.
Also a 12volt adaptor for cigarette lighter socket in a car.
When folded, the dimensions of the Goal Zero Nomad 7 Solar Panel are 9 x 1.5 x 6.5 inches (22.9 x 3.8 x 16.5 cm).
It gives you an idea of how well it will fit in your pocket, hand or bag or wherever you plan to use the solar briefcase.
When unfolded, the dimensions are 9 x 1.5 x 17 inches (22.9 x 3.8 x 43.2 cm)
It weighs 16.2 oz. (460 g).
The Goal Zero Nomad 7 Monocrystalline briefcase generates cheap electricity.
Open the solar briefcase and direct it to the sun. Remember when perpendicular to the sun you get peak performance.
Nomad 7 solar panel specs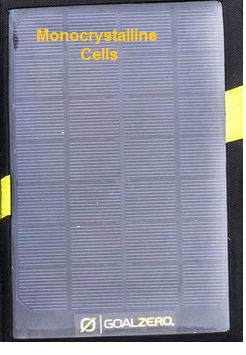 Electrical
Rated Power:                                                     7W
Open Circuit Voltage:                                     8-9V
Cell Type:                                                            Monocrystalline
Mechanical
Weight:                                                    16.2 oz. (460 g)
Dimensions (unfolded):                    9 x 1.5 x 17 in (22.9 x 3.8 x 43.2 cm)
Dimensions (folded):                          9 x 1.5 x 6.5 in (22.9 x 3.8 x 16.5 cm)
Warranty
The Goal Zero Nomad 7 Solar Panel comes with a 12 month warranty.
Applications
The Nomad 7 directly charges most USB and 12V devices.
Including;
Cell phones,
Smartphones,
GPS,
MP3 players,
Goal Zero Guide 10 Plus battery pack,  
and many more.
The Nomad 7 Solar Panel Junction Box
The manufacturers put the junction box at the back in a poach. This is for protection and safe operation even in harsh weather conditions.
It comes with many ports to power various devices;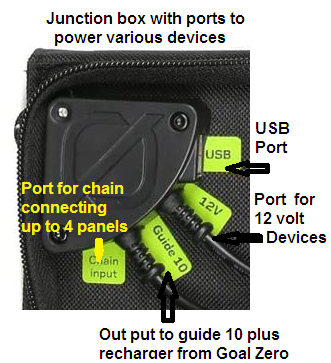 There is a USB port.
Also a port for 12-volt devices. Here you can also connect your 12volt adaptor for cigarette lighter socket in a car.
Then there is an output port for a Guide 10 Plus Recharger from Goal Zero. You can buy this rechargeable battery pack  for extra energy storage.
You also get a chain output port. This is to chain connect up to four Nomad 7 panels for greater output.
It is possible to use the USB and 12V ports simultaneously. The Nomad 7 will split the incoming power between the two ports. The devices will then charge at the same time. 
Advantages

 
The Goal Zero Nomad 7 Solar Panel is foldable with a rugged design.




It is weather-resistant and will not be damaged when you expose it to rain and snow or other damp conditions...




The 7 watt solar panel is user-friendly which makes it easy to use and it comes with a variety of charging options.
This is a device with a clever design, it is compact and easy to travel with.




The briefcase comes with strong pockets to store your extra cables. Also to protect the junction box with its different ports.




The manufacturer uses a strong canvas to protect the panels on the outside. It ensures the longevity of the nomad 7 solar briefcase.
Disadvantages
The Goal Zero Nomad 7 solar panel is a bit slow to charge.
It is also expensive, but it is high class and good quality. 
The briefcase is a bit heavy, but it does come with lots of extra parts & cords. 
A good feature is that the Nomad 7 closes with magnets, but that adds to being too heavy.
To Mention
One likes how the panel folds down, and then you can slip it into a bag or a pocket for easy storage and portability.




When you use the Nomad 7 solar panel you can lay it flat or you can set it up on something.




You can also use the supplied hooks to hang from pack for easy use, easy charge and easy access.




This is an amazing brand that really delivers. Be aware that there are cheaper competitors, but with lower quality.
In a conclusion



You can get the solar briefcases for cheaper, but not the same quality as the Goal Zero Nomad 7 Solar Panel.

This is a great portable charger, with high quality @ a good price.
 If you purchase a product through a link on this page, I do get a small   percentage  of commission at no extra cost to you.

---