The 270W Solar Panel helps you to be producing your own energy
The 270w solar panel helps you to become completely independent.  It can be your first step to becoming a renewable electricity consumer. 

Use it to convert your house into an energy provider. Do not operate an energy-dependent home anymore.
Once you invest in the 270w solar module you will be moving in the right direction.

You will start freeing yourself from a monthly energy bill.


The module is for residential purposes.
You can apply it for commercial use as well.

Use the Renogy 270w 24 Volt Monocrystalline Solar Panel for off-grid or on the grid.

The size of the panel is 64.57 x 39.06 x 1.57 inch (1640 x 992 x 40mm).
The 270W solar panel has cables attached to it via the junction box. The junction box is IP67 rated.

During a day of 6 hours sunshine, you will get an output of 6 X 270 = 1620 watts.

Allow for a loss of 15% and you get 1620 X 85/100 = 1377 watts.

Forget 7 and you have a fair amount of 1370 watts per day from one single 270W solar panel.

If you then have to charge a 12 volt 200 amp hour deep cycle battery that drains to about 50% you will need 12 x 200/2 = 1,2 KW. The 270W solar panel will be enough.
You can click here to buy a similar product.
 If you purchase a product through a link on this page, I do get a small   percentage  of commission at no extra cost to you.

270W Solar Module Specs
Electrical
Maximum Power:                                                                                                        270 Watt.

Open-Circuit Voltage (Voc):                                                                                            38.6V.

Optimum Operating Voltage (Vmp):                                                                           31.4V.

Optimum Operating Current (Imp):                                                                       8.6Amp.

Short-Circuit Current (Isc):                                                                                      9.03Amp.

Operating Temperature:                                                                                   -40°C~+90°C.
Type:                                                                                                                    Polycrystalline.
Mechanical
Weight:                                                                                                            41.3 lbs (18.7 kg).
Dimensions:                                        64.57 x 39.06 x 1.57 inch (1640 x 992 x 40mm).
Warranty
Panels;
Twenty-five-year power output warranty:

Five years 95% efficiency rate.

Ten years 90% efficiency rate.

Twenty-five years 80% efficiency rate.

Ten-year material and workmanship warranty.

One year material warranty on accessories.

Material and workmanship
Ten-year material and workmanship warranty.
One year material warranty on accessories.

Applications
Residential.

Commercial.

Off-Grid.

On-Grid.

Large Solar Systems

House.

Cabin.

Sheds.

Rooftop.

Multi-Panel Solar Arrays.

How does the 270W solar panel work?
The Renogy 270W 24 Volt Monocrystalline panel is ready to generate cheap energy. Direct it to the sun and it is in operation.

It produces a DC voltage. To use it for proper residential or commercial purposes you need a charge controller. Use it as a regulator for the batteries that store the electric power.

Also, use an inverter to change the direct current to alternating current if you want to go 110 or 220 volts.
Corrosion-resistant aluminum frame
The module comes with a corrosion-resistant aluminum frame. This ensures safe outdoor use for many years.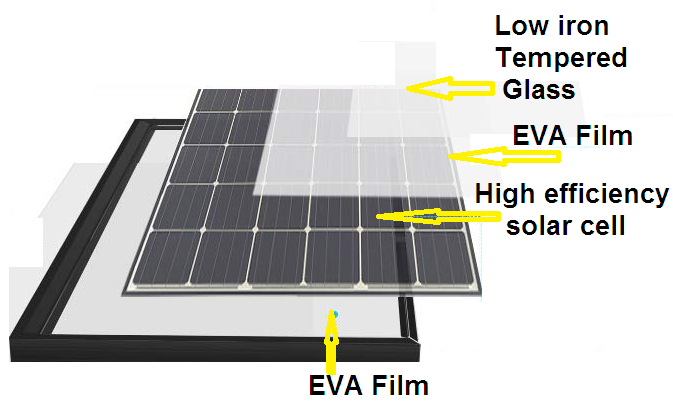 The manufacturer uses anti-reflective high transparency, low iron tempered glass. This is for better stiffness and impact resistance.
The panels can withstand high snow loads (5400Pa) and winds (2400Pa).
JUNCTION BOX
270W Junction Box.
It comes with an IP67 rated waterproof junction box.
The box is durable and can last for many years. It provides complete protection against harsh weather conditions.

The junction box contains bypass diodes. In the case of partial shading, the diodes activate. It bypasses any current generated by non-shaded cells. This is to limit module heating and performance losses.

Advantages associated with the 270W solar panel
The 270W solar module is quality built with an excellent cost per watt rating.


It works with MPPT solar charge controllers.


The pre-drilled holes on the back of the panel make it possible to mount the module fast and secure.


It uses a durable frame. The frame is corrosion resistant and good for extended outdoor use for many years.


The frames are of high quality with aluminum walls. This is to ensure that the panels can withstand heavy snow loads and high-speed winds.


The advanced encapsulation material including multi-layered sheet laminations enhances cell performance. It also ensures a long service life.
Disadvantages
This single panel is big and heavy. It is thus a little less convenient to install. Once in operation, it is durable and it works well.
The packaging is not always good. Customer service is exceptional, though with knowledgeable people to assist.

To Conclude
The 270W solar panel is a good quality module.

The panels are well constructed and produce the rated voltage and current.


The panels come at a good price from a great company.