The 270W Solar Panel: It helps you to be producing your own electricity
The 270w solar panel will help you becoming completely independent.  You can make it a first step to enjoy  renewable electricity. 

You do not have to operate an energy dependent house anymore. Rather become an energy provider.
You will move  in the right direction, once you invest in the 270w solar module. You can rid yourself of a monthly electricity bill. 

Use the 270 watt solar panel for residential purposes.

You can use it for commercial purposes as well.

You can use the Renogy 270w 24 Volt Mono Solar module for on or off-grid. 

The panel's size is 64.57 x 39.06 x 1.57 inch (1640 x 992 x 40mm).
They attach cables to the 270w solar panel via the junction box. The box is IP67 rated.

During a day of 6 hours sunshine, you will get an output of 6 X 270 = 1620 watts.

Allow for a 15% loss and then you get 1620 X 85/100 = 1377 watts.
Forget the 7 and you have a fair amount of 1370 watts per day from one single 270W solar panel.

If you now charge a 12 volt 200 amp hour deep cycle battery wit DOD of 50% you require 12 x 200/2 = 1,2 Kilowatt. The 270W solar panel is sufficient.
270W Solar panel specs
Electric
Max Power:                                                                                                                         270 Watt.

OC Voltage (Voc):                                                                                                                   38.6V.

Operating Voltage (Vmp):                                                                                                  31.4V.

Optimum Operating Amperes (Imp):                                                                       8.6Amp.

Short-Circuit Amps (Isc):                                                                                             9.03Amp.

Temperature to operate:                                                                                   -40°C~+90°C.
Type:                                                                                                                    Polycrystalline.
Mechanical
Weight:                                                                                                            41.3 lbs (18.7 kg).
Dimensions:                                        64.57 x 39.06 x 1.57 inch (1640 x 992 x 40mm).
Warranty
Panels;
25 Years of a power output warranty:

5 Years of a 95% efficiency rate.

Ten years of a 90% efficiency rate.

Twenty-five years 80% efficiency rate.

Ten-year material and workmanship warranty.

One year material warranty on accessories.

Material and workmanship
Ten-year material and workmanship warranty.
One year material warranty on accessories.

Applications
Residential.

Commercial.

Off the Grid.

On the Grid.

Larger Solar Systems

House.

Cabin.

Sheds.

Rooftop.

Multi Panel Arrays.

Operation of the 270W solar panel.
This Renogy 270W 24 Volt Mono module is ready for the generation of cheap energy. 

The output is in DC voltage. Use a regulator for storing of electricity in the batteries.

You have to make use of an inverter to change DC to AC if you want to use 110 or 220 volts appliances.
Corrosion-resistant aluminium frame
The module comes with an aluminum frame that is corrosion-resistant. This ensures long years of outdoor use.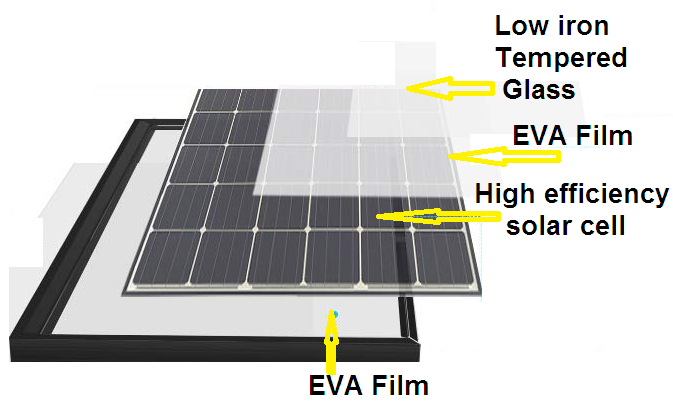 They use  high transparency, and low iron glass that is tempered. This is for better stiffness and impact resistance.
The panels can withstand high snow loads (5400Pa) and winds (2400Pa).
JUNCTION BOX
270W Junction Box.
It has an IP67 rated  junction box that is waterproof. .
The box is strongly built and will last long years in harsh conditions

It has by-passing diodes. When there is partial shading, the diodes will activate.  Now it bypasses  current generated by non shaded cells.
This will minimize module heating and performance losses.

Advantages associated with the 270W solar panel
Some not so goods
This single panel has a big size. It is also quite heavy. It is thus  takes effort to install, but once in operative, it works well.
The packaging is not always good. Customer service is exceptional, though with knowledgeable people to assist.

To Conclude
The 270W solar panel is of high quality.

Construction is done well. It produces the voltage and current as rated.

The panels come at a good price from a great company.
 If you purchase a product through a link on this page, I do get a small   percentage  of commission at no extra cost to you.