This 400 watt solar panel: It is to be to be very efficient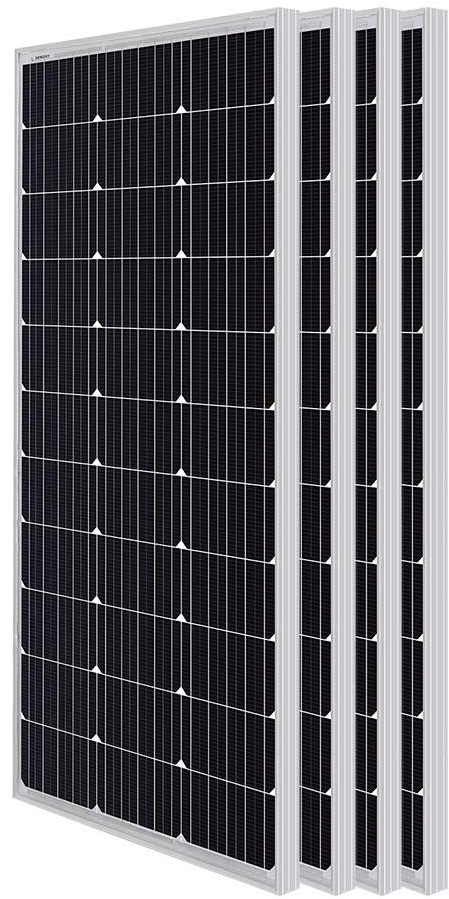 4 x 100 Watt solar panels.
A 400 Watt Solar Panel that is a high performer. Distribution of the rigid and strong modules is from Renogy. 
They call this high-efficiency panel the Renogy 400W Monocrystalline Starter Kit. 
This system uses 4 x 100 Watt solar panels to deliver a peak output of up to 400 Watt on a sunny day.
The module comes with an efficiency of 21%.


The four 100w panels take up about a 3ft x 8ft space.


You can connect the four Renogy 100-Watt Monocrystalline solar panels in parallel.
Do it by making use of three pairs of branch connectors. The branch connectors come with the kit.

It has a  TPT (Tedlar Polyester Tedlar) back sheet. This  ensures smoothness of performance over a long period.

The heavy duty anodized aluminum frames  provide for high in quality panel rigidity.

You can enjoy faultless operation  for many.

This 400 watt solar panel comes with a very good  warranty for as long as twenty five years.
On a sunny day in mid summer, when there is  6 hours of sunlight, the panel can generate 2 Kilowatt power.

This is 6 x 400 watt = 2.4 Kw.

Allow for a losses of about 15%. Now you have  2400 * 85/100 =  2.04 KiloWatt

Throw away  0.04 and you have 2 Kilowatt.
The 400 watt solar panel kit includes;
400 Watt Solar Panel Kit.
Four Renogy 100W 12 Volt Mono pv Panels.
A 30A Pulse Width Modulation Wanderer  Controller.
 Twenty ft 10AWG MC four Adaptor.
Eight feet 10AWG Tray Cable
Three pairs  branching connectors
Four  Z-brackets sets. (Four Z-brackets per set.)
Operating the 400-watt solar panels
For full operation of the  400 watt solar panel  we need a battery , inverter and
It comes with a 30  Amp charge controller.

Divide total watt by volts to size the battery. 
2 x 200 Ah batteries.
This is 400 watt x 6 hours daily sun ( Depending on season and area.) X .85 for loss divide by  12 volt x 2 for D O D.
You get 400 x 6 x .85 / 12 * 2 =  340 Ah.
Use  2 x 200 Ah batteries.

Decide the max watts to utilize and size the inverter.
Max out is 400 watt. 
600 Watt Inverter.
By rule of thumb you will use an inverter one and a quarter  to one and a half times more than max requirement.

We use a 400 * 1.5 = 600 watt. A 600 watt inverter is a good choice.

400 Watt Solar Panel Specifications for every 100 Watt Module
Electrical
Max Power:                                                                                                                    100Watt.

Open-Circuit Volts (Voc):                                                                                              22.5V.

Optimum Operating Volts (Vmp):                                                                            18.9V.

Optimum Operating Amp (Imp):                                                                               5.29A.

Short-Circuit Amps (Isc):                                                                                              5.75A.

Temp:                                                                                                             -40°F to +185°F.
Mechanical
Dimensions:                                                                                   47 x 21.3 x 8 inches.

Weight:                                                                                                          16.5 pounds.
Warranties
25 Years  output warranty:

Five Years 95 percent efficiency, ten Years 90 percent efficiency and 25 years
eighty % efficiency.
This  400-watt solar panel kit also has a five year material plus workmanship warranty.
Accessories  have a one year material warranty.
Applications
Use the 400 watt solar panel starter kit for various off-grid applications such as:

RVs;
Trailers;
Boats;
Sheds;
Cabins;
Electric livestock fences;
The starter kit can provides years of quiet power production and grid independence.
The junction box
IP 65 rated junction box.
The IP 65 rated junction box is waterproof.
You do not have to be troubled about rainy or misty weather. Even under harsh conditions the 400W solar panel will perform well.
The Corrosion-Resistant Aluminum Frame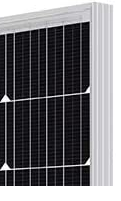 The frame.
This 400 watt solar panel comes with a corrosion-resistant aluminum frame. This is for extended outdoor use.
These are heavy-duty frames and the panels can last for many years.

The 30A Wanderer Charge Controller
The Renogy Wanderer 30A Negative-Ground Charge Controller works with Pulse Width Modulation.

The current that tapers from the module is determined  by the condition of the battery. 
The 30A Wanderer Charge Controller.
Charging continues to ensure for the provision of the most energy in a short period.

30-Amp charge controller Specifications
Nominal Voltage:                                                                          12 VDC.

Rated Charge Current:                                                                       30A.
Max. PV Input Voltage:                                                                 25 VDC.
Max. PV Input Power:                                                            400W (12V).
Battery Type                                                        Sealed, gel and flooded.
Charge Stage                                                                                         3.
Grounding Type                                                                          Negative.
Nominal system voltage                                                               12V DC.
Dimensions                                                                    6.5 x 4.3 x 1.8 In.

Connecting the charge controller
First you will connect the battery, then  the load and lastly the panel.

This ensures safe operation and it safeguards the  equipment against overload.

One should never connect the solar panel to the controller without a battery.

It is good practice to install the charge controller indoors to keep it well ventilated, cool and dry. Keep the controller away from damp.

It is better to install the charge controller indoors in a well-ventilated, cool, and dry place.

Water must never enter the controller.

The MC4 solar cable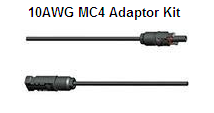 MC4 Adaptor Kit.
The kit comes with a 20ft 10AWG MC4 Adaptor Kit. This is to connect the solar panels to the charge controller.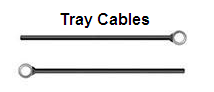 Tray Cable.
Also, an 8ft 10AWG Tray Cable that connects the charge controller and the  battery.

To set it up is quick and easy.
400 Watt solar panel brackets for mounting
One set of Z-brackets.
The 400-watt solar module kit includes 4 sets of Z-brackets.

One set per panel and four Z shape solar panel brackets per panel.

By using the brackets  mounting becomes easy, safe and secure.

Advantages
The high-performance Monocrystalline panels come with a solar cell efficiency of 21%.


The panels are solid with corrosion-resistant aluminum frames. This makes it possible to use harsh weather conditions for many years to come.


The TPT (Tedlar Polyester Tedlar) back sheet protects against ultra-violet radiation. Also against dryness, wind, dust, sand, and chemicals. It also prevents humidity and vapor penetration.


The IP65 rated junction box protects against rain and damp.


Pre-drilled holes allow for fast and secure mounting.


The output on all 4 panels is consistent.


It is quite easy to put all the hardware in the 400 watt solar panel kit together.
The price is reasonable. The instructions are straightforward and the packaging is of a high standard.
Disadvantages
Four-way Connectors.
Some people report that the screws in the charge controller are not strong enough. It is the ones that hold the wires from the solar panels.

It would be easier to connect the solar panels via four-way connectors.

To mention
The 400 watt solar panel kit is high quality and the panels are efficient, even on cloudy days.

The charge controller comes with many useful displays to track everything important.

The complete system is unbelievable easy to install.

Coming to a conclusion
 If you purchase a product through a link on this page, I do get a small   percentage  of commission at no extra cost to you.

---